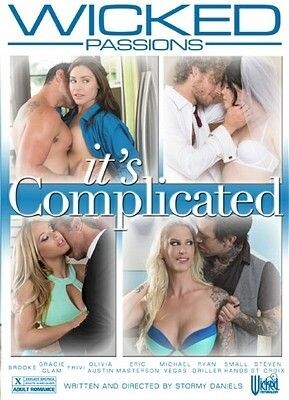 An excellent couples comedy from the Wicked Passions line and writer-director Stormy Daniels, with lots of dialogue and business geared to appeal to women.
Gracie Glam, as Shauna, starts the day by fucking boyfriend Will (Ryan Driller). She gets a wedding invite from her hometown where she hasn't been in years. She tells roommate Carrie (Brooke) that she wants to go just to impress her high school crush, Brandon. Carrie balls boss Eric Masterson in his office, then quits when she finds out he's married.
The rest of the movie takes place at the hometown wedding, where Yhivi is the super-cute bride. She and groom Michael Vegas have a quick bathroom fuck before the ceremony. She sits on the sink and he licks and fingers her to orgasm — hot scene.
Steven St. Croix, as Shauna's "weird uncle," makes eyes at another guest's date, the lovely Olivia Austin, and balls her in the game room.
Shauna finally sees Brandon (Small Hands) — and barely recognizes him. He's covered in tattoos (he owns an inking shop). He admires the many tats on Carrie, and they wind up together with a nice fuck in a hotel room. Shauna goes back to Will, happily.
Synopsis:
Shauna (Gracie Glam) has been having casual sex with her handsome friend Will, biding her time until she can finally make a move on her long time crush Brandon. A wedding invite provides the perfect opportunity and she convinces her best friend Carrie (Brooke) to go with her. Things get complicated when Carrie inadvertently hits it off with Brandon and an old buddy confesses his love for Shauna. Shauna realizes her feelings for Will run much deeper than she thought.