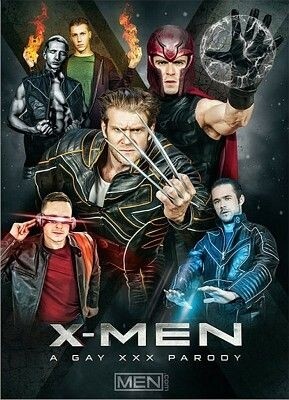 Gay geeks who have fantasized about Hugh Jackman and James Marsden hooking up get a close approximation with Brenner Bolton (as Cyclops) and Colby Keller (perfectly cast as Wolverine), among other treats, in Men.com's erotic spin on the film versions of the popular mutant superheroes.
Cyclops and Wolverine continually clash but in this version they forget all about Jean Grey and work out their aggression man-on-man. The costumes and props unfortunately disappear pretty quickly (although Brenner wears his visor throughout, importantly) as they get right to the action. Keller is an alpha lover who really needs a partner with equal amounts of sexual confidence to bring out his best, and Bolton is that guy. He climaxes as he's riding Keller's boner. Watch for when Keller coats his partner's handsome face, tongue and visor with cum.
Elsewhere, Paul Canon (as Pyro) and Mike DeMarko (as Iceman) are at odds, as they are in the big screen films, but not for long. There's a nice moment of special effects work as Pyro unveils a palmful of fire, which Iceman extinguishes with an icy blast. Their matchup takes place on a top floor of a rubble-strewn building, apparently a "found location," which gives the impression of the aftermath of a major battle. At one point, rainy weather provides the opportunity to work in an amusing reference to Storm. However, they make the nigh-unforgivable error of mispronouncing "Magneto."
Sexually, the young men are well-matched. DeMarko is a lean, furry otter and an active, pushy bottom. Canon sports a smooth, skater's physique and an appealingly kinky, sensual intensity.
Keller returns to banter with gorgeous blue-eyed Landon Mycles, who is supposed to be playing Colossus. However, he turns out to be the blue-skinned, red-haired female shapeshifter Mystique. This adds an intriguing dimension to their fuck-session when Keller is deep-dicking Mystique in her male form, although it isn't overtly explored (it's not a bisexual fuck flick).
Keller is a passionate lover and watching him hungrily devour Mycles — smooth with lean muscle, while Keller is brawny and furred — is enough to rev any engine. He's fully in command as he guides Mycles through a spit-soaked blowjob and more. Their assplay is particularly erotic. Keller has charisma to burn and it's fully on display here.
Although Paddy O'Brian as the villainous Magneto is the centerpiece of the fourth and final vignette he's not the center of a gang-bang, more's the pity, but one of the star attractions in an orgy. He does briefly bottom for Keller and the five men jack off onto his sinewy arms and chest to close out the sexcapades. The stalwart Keller also hooks up with most of the other guys and props to Canon, again, who seems to really get off on the inherent kinkiness of the set-up. Comic book fans will have to agree to overlook some dialogue that misses the mark, however.
Nothing is being explicitly parodied in this Men.com series — they're more aptly described as an erotic reimagining, perhaps — with other recent subjects including Batman and Superman, Captain America, The Flash, Star Trek and Tarzan.
Synopsis:
Wolverine and Cyclops relieve some of the stress that comes with saving the world in X-Men: A Gay XXX Parody. Wolverine fits his huge pulsing cock inside of Cyclops and fucks him with all his might before pulling out and bursting his superhuman semen all over his comrade's face. Ice meets fire next, where Iceman and Pyro's anger leads them down a path of viciously passionate plowing. These super-gay-heroes take turns worshipping each other's beautiful cocks before Pyro takes the plunge, filling Iceman with his throbbing member in deep powerful thrusts.
Wolverine and Colossus have some time to kill before Storm picks them up. What better way to pass the time than with a super suck-and-fuck fest in the warehouse where Wolverine was created? Wolverine's thick meaty cock feels right at home inside his comrade's smooth tight ass as he passionately pumps away... but not before he realizes it's actually Mystique he's been fucking!
Cum will be spilt in the finale, as the battle between the X-Men reaches a fever pitch. There will be more than one climax in this conclusion, as these six superheroes work out their differences with a mouth-watering jizz orgy that penetrates deep into their powerful orifices. The boys take turns sucking and fucking each other. Magneto rides Wolverine's cock as the rest of the X-Men jerk themselves off to completion into his open inviting hands.