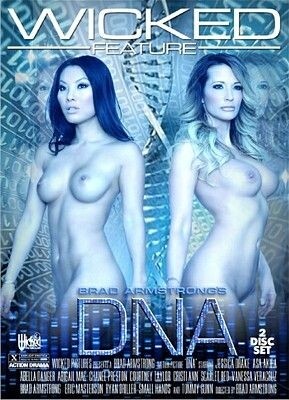 This Brad Armstrong feature combines a thought-provoking sci-fi premise with thriller elements and, of course, ample hot sex. Armstrong himself plays the founder of Iterum Industries, a company that clones recently deceased loved ones for their next of kin.
The clones, or "carbons," are created with DNA samples provided by survivors and are completely lifelike. The catch? They can only exist for 72 hours.
Jessica Drake co-stars as Armstrong's second in command, a steely-willed professor who has doubts about her boss' morality. When the clone of a lesbian's lover breaks down, it's a sign that the system is slowly falling apart. Real trouble develops when an intense young man (Small Hands) commissions a carbon of his late lover, played by Asa Akira. His concern is about just how much she will remember.
The Asa clone turns out differently. According to Jessica "she feels, she thinks, she knows." She also has flashbacks about just how she was done in. This is where the thriller elements kick in, and they are excellently manipulated by the director and his uniformly fine actors.
The amazing Akira, unsurprisingly, takes the sex honors, first with an anal-focused bout with Small Hands, then with a softer dildo-driven matchup with Jessica.
Synopsis:
Wicked Pictures and Award Winning director Brad Armstrong bring you the futuristic tale of a company with cutting edge technology able to bring back loved ones who have passed away. Eager clients commission the 'Carbons' who are then cloned from available DNA samples. The bereaved can now get the closure they have been searching for or feel their lovers touch one last time. The clones are perfect in every way and business is booming. CEO Malcolm Moore (Brad Armstrong) and V.P. Lidia Kline (jessica drake) are elated, but things take a turn for the bizarre when one of the carbons, Kayla (Asa Akira) becomes aware of her former life and realizes Miles Dunn (Small Hands) the man who had her brought back to life is actually her killer. From there its a game of cat and mouse with Kayla on the run and Miles quickly closing in. DNA is an erotic thriller packed incredible performances and amazing visuals. This sci-fi masterpiece is sure to please anyone who appreciates Porn with a Plot. Great Sex, Great Acting, Great Movie.