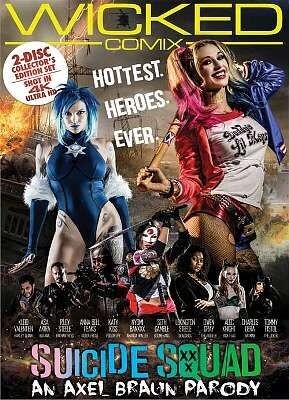 Here's a smut parody of one of this summer's big movie hits, based on the eponymous DC Comics antihero team, with the mainstream film itself being described by director David Ayer as "Dirty Dozen with supervillains." The story's basic framework is highly similar in this Axel Braun parody, except that, unlike the mainstream blockbuster, this movie is a cockbuster with five sizzling sex scenes, perfectly suitable for couples and pervs alike.
We start off with a fine girl-girl between scorching Wicked contract gal Asa Akira, playing Katana, and Kleio Valentien, as Harley Quinn, with some super-duper snatch sucking taking place in a stark white padded cell, with both ladies enjoying a mouthful of cunt and crack.
Next, the much-missed (in that we don't see her that much these days) Riley Steele puts in a volcanic performance (even whilst getting shafted by a condom-coated shaft), as Seth Gamble screws her in a moodily lit/highly atmospheric setting, with Steele sucking like there's no tomorrow and looking superb as she squats her fine ass, for a long period of time, on Gamble's goo-launcher. Whew! Feel the Steele!
A few more XXX goodies in store for ya… big-bottomed/-titted Anna Bell Peaks, as Killer Frost, and punk-rocker-looking Katy Kiss, as Poison Ivy, get down and dirty with the Riddler (Owen Gray) in his prison cell. Asa Akira takes Lexington Steele, as Deadshot (and no relation to Riley), straight up her little Japanese anus, as well as her hungry slut's mouth, which may be one of the most impressive feats in the entire movie, as well as one of the delectably nastiest.
Lastly, in another creatively lit sequence, taking place in the city's underground sewer system, Kleio gets separately poo-pit pummeled by Tommy Pistol (overacting a smidge as the Joker) and Charles Dera (looking very believable as Batman). And while Kleio's make-up doesn't quite do her off-kilter brand of pretty justice, she impressively knows how to deepthroat and get deeply ass-fucked. Good girl!
"Suicide Squad XXX" is a damn good feature, loaded with (five!) similarly damn good boink scenes. And it's marvelous to see that director Braun is, smartly, letting his female performers get out of those superhero/villain costumes to really show off their goods.
Synopsis:
Axel Braun strikes back! For his fourth Wicked Comix title, the legendary Adult film director takes on the most anticipated superhero movie of the summer with another hi-budget sexy spoof. Featuring a stellar cast lead by Kleio Valentien, reprising her award-winning role as Harley Quinn, megastar Asa Akira as Katana, Anna Bell Peaks in a star-making role as Killer Frost, and ABP contract girl Riley Steele returning as Enchantress, Suicide Squad XXX: An Axel Braun Parody delivers a clever story, steamy hot sex scenes, and a mind-blowing performance by Best Actor winner Tommy Pistol as The Joker.