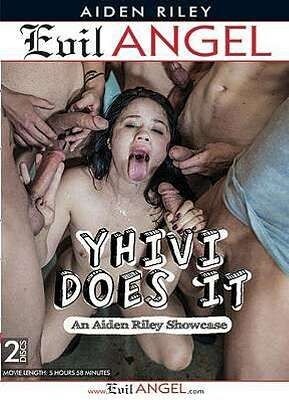 Over the span of two discs, you get four scenes with the very exotic-looking, little (at 5'1") Yhivi, who not only "does" girl-girl in "Yhivi Does It" (YDI), but also "does" plenty of plunging anal, a six-member blowbang and one gnarly double penetration.
Only 21, from California, of German/Irish/Mexican/Portuguese/Brazilian/Native American descent (yes, all o' that stuff), with a weird name, a marvelously upbeat attitude and (better still) a filthy-as-fuck bed manner, Yhivi is definitely worth taking home — as is this positively perverted title from the nasty folks at Evil Angel.
While I felt the casual interviews in YDI are way too long and should've been collected in a BTS special feature (which, ironically, isn't featured), the sex is excellent, beginning with a fine cunt-to-cunt/anus-to-anus sucking 'tween our lead starlet and supporting slut Ella Nova, with the ladies at one point using some vegetables (corn, carrots) in the temporary absence of more traditional love toys, though they do put their lips and tongues to damn good use.
Markus Tynai provides a strong anus boring of sweet Yhivi; while her blowbang with six guys is amazing, with our girl frequently gagging, foaming, choking, double-sucking and pretty much happily letting these misfits do whatever they want with her, short of actually slamming her slit and shitter.
Lastly, Yhivi's double penetration with Mark Wood and Bill Bailey is fanny-tastic, as our starlet lets the slobs double-skewer her in the doggie, reverse-cowgirl and standing positions, with nasty newbie Yhivi offering up a fair amount of ATMs when those wrinkled aqualungs surface from her turd bin.
Ecstatically sucking and screwing a small army of screwballs, Yhivi proves that she's definitely the proverbial whore with the heart of gold. Not to be missed.
Synopsis:
A young, exotically mixed-race porn queen showcases all of her sexual skills in 'Yhivi Does It, an epic, nearly six-hour document of the titular tramp's ass-banging sexual lifestyle. Director Aiden Riley reveals this adorable, petite seductress in behind-the-scenes interviews, one-on-one scenes with boys and girls, an intense double-penetration threesome and a ferocious, seven-man, sperm-splattering blow bang! Yhivi cooks dinner with statuesque blonde Ella Nova, who fucks the star's holes with various vegetables. They enjoy a lesbian session of ass-eating lust, with double dongs, big vibrators and more freaky toys. Handsome Markus Dupree gets right to business, burying his fat dick way up Yhivi's tight rectum. She opens wide for a mouthful of hot jism. Pale Yhivi attends a woodworking demonstration, but ends up surrounded by a different kind of wood: huge cocks. She drools sloppily, struggling to service them all, and the men ejaculate into her mouth. Having asked Bill Bailey and Mark Wood to help with a school project, Yhivi ends up sandwiched in a ruthless anal threesome. The nasty veteran studs stretch her sweet, pliable sphincter to the limit.