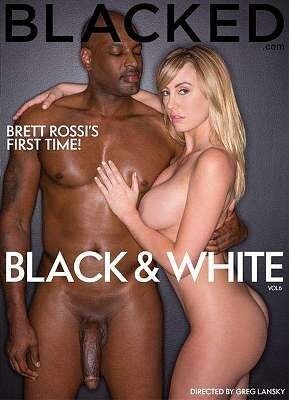 Thoroughly satiating interracial antics are served up like a steaming plate of black beans and rice in Blacked.com's sixth ebony-ivory whore-fest, with highest points going not only to delicious DVD box-cover model/prissy-looking/well-pampered Brett "bimbette" Rossi, but the truly underrated, intensely passionate Keira Nicole, here portraying a totally unforgettable black-slug slut.
Brett plays a foxy bitch who's being hassled/stalked/whatever by a former boyfriend, so she turns to one of "the most powerful and feared men in LA," in the form of (really?) Flash Brown, who might not deliver his lines very clearly, but delivers a scorching twat-pounding to this spoiled white tramp, who not only has a killer face and figure but a uniquely attractive nose. Really. Check it out. And it's also almost as if vindictive vadge Rossi is doing this scene to piss off a real-life boyfriend out there somewhere. Poor bastard.
Jojo Kiss (looking very much like Stephanie Swift from the mid-90s) wants to get it on with her black-behemothed math tutor (Isiah Maxwell), while Alexa Grace (with her fine white butt cheeks, especially highlighted in the cowgirl position) devises to get back at her boyfriend by having his roommate (Jason Brown) slam her silly; with both young ladies being fine fuckettes; each trying their damndest, by the way, to suck those chocolate-covered footlongs.
But it's the blood-pud pounding of Keira Nicole which'll really bust yer nut. Nicole, playing a journalist (gotta use your imagination in this one, guys), gets it on with a sports figure (the largely incomprehensible but, nonetheless, largely large Flash Brown), with nasty Nicole being the best suckette in the movie (lots of saliva, deepthroating, obnoxious noises); while, like Brett, she seems positively sincere in her ultra-horniness, making plenty of eye contact and energetically jumping, pumping, sliding, grinding on black gristle like a true champ in each featured position. Love her cute little overbite, too!
"Black and White, Vol. 6" puts raging black cocks to good use on cute Caucasian cunts. Need I say more?
Synopsis:
Award Winning studio BLACKED.com proudly presents the sixth installment to its cornerstone line Black & White. Cover superstar Brett Rossi makes her Blacked debut in an Exclusive scene filmed by "Director of the Year" Greg Lansky. One of the most beautiful women to ever grace the screen, Rossi gives into her deepest desire and embraces pure BBC lust with costar Flash Brown. Also featuring teen JoJo Kiss experiencing her 1st interracial sex, Keira Nicole and Alexa Grace have a voracious need for BBC. BLACKED.com films are about quality. It is often imitated but never duplicated. Our commitment is to bring you the highest quality scenes featuring beautiful cinematography and luxurious settings.