Batman V. Superman: A Gay XXX Parody
Men.com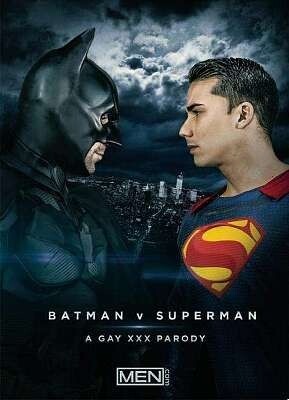 Trenton Ducati and Topher DiMaggio possess superheroic physiques (among other fine attributes) so it stands to reason they should play Batman and Superman, respectively, in this decently crafted three-scene effort from Men.com, running a brief 68 minutes and change, that pivots on the recent much-derided (albeit popular) megabudget popcorn flick from Warner Bros.
Damien Crosse is rescued from vicious muggers and shows his appreciation to the Man of Steel (as the Dark Knight secretly observes them) in an alleyway before they move indoors. Crosse is a focused, intense and passionate performer and he brings out the best in DiMaggio, especially when he gives as good as he gets as DiMaggio plows into his muscular ass.
In the second vignette Paddy O'Brian is rescued from more gun-toting thugs by Batman and then turns the tables by serving as topman to the superhero. O'Brian's natural swagger and aggressive masculinity make for an excellent match for Ducati, who also shares similar physical qualities. O'Brian is usually all business onscreen but his sexplay with Ducati has an added layer of sensuality that is quite appealing.
The final scene has Dario Beck, Allen King and Massimo Plano locked in cages by a villainous Francesco D'Macho (in a nonsex role). Superman and Batman come to rescue, a shootout ensues and we're apparently supposed to forget that Superman is invulnerable (perhaps because DiMaggio looks damn good in that costume). The men are released from their cages and a quick-and-efficient orgy kicks off. Plano and Beck are handsome specimens and compact, adorable King really holds his own, particularly as he is spit-roasted. Bonus points for leaving parts of the costumes on for the sexcapades.
There is nothing being parodied in this brief, straightforward take on the material. The costuming and staging is good and grace notes include several overhead establishing shots of the cityscape and the company logo mimicking the one used by Marvel Studios. Men.com's other recent erotic spins on pop culture have included parodies of "The X-Men," "Captain America" and "Tarzan."
Synopsis:
The biggest heroes of all-time in their sexiest adventure of all-time: Batman v Superman: A Gay XXX Parody. Reporter Clark Kent believes Batman is a vigilante who is not doing the city any favors. Clark believes that Superman's superpowers make him the city's true protector. Of course, he is probably biased being that he is the one and only man of steel. Watch Topher DiMaggio rescue Damien Crosse by fending off his attackers and then drill his hole with his fat Superman cock. When Paddy O'Brian gets held up by some thugs, Batman, played by Trenton Ducati, comes to the rescue. Batman saves Paddy and for his reward he bends his crime fighting ass over for Paddy's raging hard dick. Paddy strokes and spits on Batman's fat cock as he pounds his sweet ass. The superheroes join to rescue three cock hungry studs. Watch as Superman and Batman cum together with Dario Beck, Massimo Piano and Allen King in the extraordinary orgy finale.