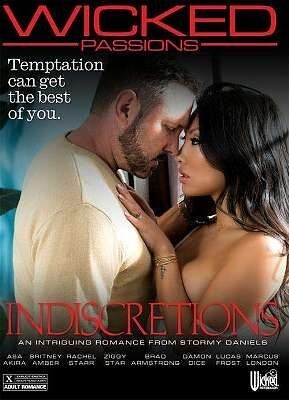 Writer-director Stormy Daniels examines grown-up relationships in this couples-oriented romance. Asa Akira stars as a physician who, packing for a vacation, finds evidence of her husband's infidelity. Brad Armstrong, as the hubby, tries to explain it away but she slugs him and walks out. Brad confides in girlfriend Rachel Starr that "she found out about us," and they have sex.
A month later Kim moves into a new house with a hunky next-door neighbor, Damon Dice. She needs Damon to fix her garbage disposal and invites him to dinner, which soon turns into sex. Asa as usual gives it her all and then some as Damon takes her in several positions.
Meanwhile, Brad tries to make amends and invites her to a birthday dinner for his daughter, Ziggy Starr. After a counseling session, he and Asa make out passionately. But Damon gets insanely jealous when he finds out she's back with Brad and begins to stalk her. There's a believable twist ending. Asa is on fire in both sex scenes, and Dice makes a suitably creepy stalker.
Daniels supplements the main scenes with encounters between Asa's colleague Britney Amber and Marcus London, and her stepdaughter Ziggy and boyfriend Lucas Frost.
Synopsis:
Kim (Asa Akira), reeling from the unexpected separation from her husband David (Brad Armstrong), moves into a new place. Her neighbor Shane (Damon Dice), immediately introduces himself and begins to help her out around the house. Despite the difference in age, the attraction between them quickly intensifies until Kim finds it impossible to resist his charms. Still not quite ready to give up on her twelve year marriage and her stepdaughter, Kim decides to break it off with Shane and try to forgive her husband. This is when things take a turn for the worse and Kim discovers Shane's intentions aren't so neighborly after all.