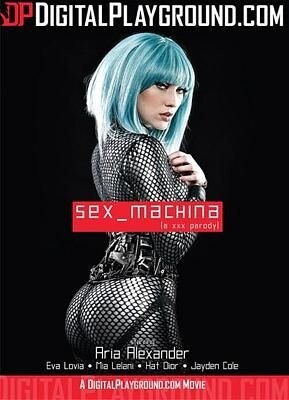 If you haven't seen the visually impressive, downbeat, sexy, even, at times, creepy 2015 sci-fi movie "Ex Machina," of which this Digital Playground feature is a (non-humorous) parody, then I'm not going to ruin it for you by discussing too much of the plot in this horny spinoff, concerning a computer geek (Ryan Ryder) who wins a week at a world-renowned computer wizard's (Alec Knight's) secluded home/research facility, with some absolutely nasty results, including a scorching DP from the delightfully dirty Kat Dior.
While the movie's main female star is Aria Alexander, playing our brilliant scientist's crowning achievement in the area of AI (artificial intelligence), her two scenes are unfortunately hampered by the fact that she doesn't take off that sexy, shimmering, glitzy but, nonetheless, intrusive 'robot' outfit she's wearing, although she offers up two good fucks, the second being all the more augmented by the curvy, cute, big-assed Eva Lovia (love her!) when both tarts are pleasuring (and vice versa) that bloke Ryan Ryder.
Big-boobed Asian slut Mia Lelani herself delivers two memorable sequences, first welcoming Ryan to the compound by banging his brains out, then seriously sucking off our intense tech wiz, Alec Knight.
But it's the Tommy Gunn/Ryan Ryder double schtupping of little underrated Latina Kat Dior (I even love her nom de porn!) in an off-limits laboratory that's the movie's true highlight, with Dior's delectable derriere cheeks jiggling magnificently all over the place during doggie, while this same cute gem sucks cock like there ain't no tomorrow. Job well done, Kat baby! And, for the record, the girl-girl tryst between tall Jayden Cole and the ever-luscious Eva Lovia is a beat-worthy inter-lewd, as well! "Sex Machina" is definitely worth a looksee, with its strong suck/fuck sessions, not a bad-looking lady in the house, and even (no, I won't ruin it for you!) a happy ending.
Synopsis:
When a young hacker wins the trip of a lifetime to a secret facility owned by one of the world's tech geniuses, he learns important lessons about his own humanity.