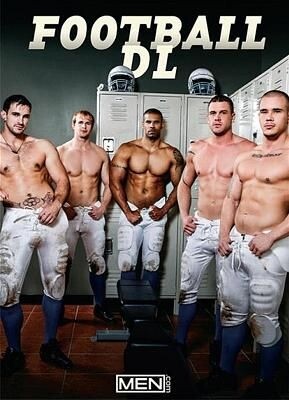 Stalwart musclebod Robert Axel anchors this three-scene effort that begins as an erotic spin on the story of real-life openly gay football player Michael Sam and then morphs into a standard tale of locker room sexcapades.
Tall, mocha-skinned and quietly charismatic, Axel is built for sex with his oversized biceps, broad shoulders and meaty thighs. He's happy to top or bottom and he appears to prefer sensual sexplay. The first scene features Brenner Bolton, clean-cut and handsome with a gleaming smile. He's an eager, attentive bottom and very, very vocal. Bolton is always a scene-stealer but he's at his best with a partner like Axel who appreciates his romantic side.
The follow-up vignette has some light hazing from Axel's teammates that culminates in team captain Darin Silvers offering up his athletic physique to his teammate. Silvers, a talkative topman, brings an eager, aggressive energy to his work as he piston-fucks Axel.
The third and final scene brings in Silvers, Phoenix Saint, Adam Bryant and Cameron Foster for a gangbang, beginning with group oral in the shower, that Axel handles with aplomb. (Wait for the inevitable joke about "tight ends.") The football gear doesn't receive much play, unfortunately. Saint, handsome and affable as ever, generously shares the anal action with Axel as they trade off getting stuffed with cock; the teammates then jack off onto Axel's muscular chest and thighs.
Synopsis:
No one knows these football studs are on the DL and that they all change in the locker room together so they can fuck each other when the coast is clear. You won't find hotter and hunkier football players playing for the same side and dicking each other when the game is over!