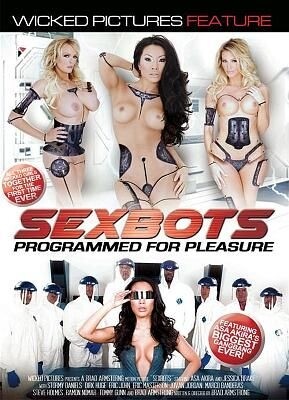 This is five-star porn from the triple A-team: Asa-Akira-Armstrong. Director Brad has created a terrific all-sex science fiction satire starring XXX legend Akira at her most volcanic. Add another "A" for Awesome.
Brad also co-stars as a scientist working on The Eve Project, the creation of a perfect female sexbot. He pronounces Asa "perfect in every way" as she recites her catalogue of skills ("fellatio, digital insertion, vaginal, anal…"). When he decides, unwisely, to give his invention a trial run, she literally fucks him into oblivion.
When help arrives in the form of eight hazmat-suited lab assistants, Asa just screams, "More, more!" and takes them all on, gagging deliriously on their dicks. It's her most amazing gang bang ever, including several DPs performed with total abandon — she goes airtight with ease. She's in ecstasy when each guy shoots off in her mouth and then collapses from sheer exhaustion.
Refreshed, Asa activates fellow sexbots Stormy Daniels and Jessica Drake. Two gorgeous blondes and an incandescent brunette, each fixated on maximum orgasmic pleasure — what's not to like? It is a perfect trifecta of porn goddesses. At the end, the trio drifts out of the lab as the narrator intones, "The ultimate companion dolls have been unleashed on the world."
Synopsis:
Director Brad Armstrong brings back together jessica drake and Stormy Daniels for their first scene together in over 10 years. Add Asa Akira to the mix and it is sure to go down in porn history. Also features the biggest gangbang of Asa's career!