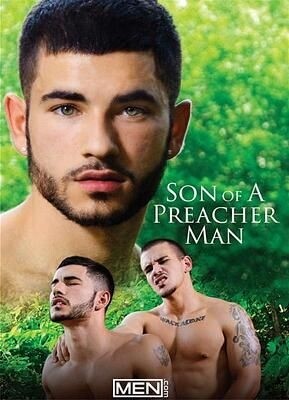 Vadim Black, lean and ripped with dark scruff and blue eyes, has an alluring Johnny Hazzard vibe, and narrates this three-scene endeavor from Men.com as a virginal-turned-slutty preacher's kid. Blond, burly Brenner Bolton and muscular, charismatic Aspen (no surname) steal the show.
Black is a dissolute recent high school graduate who is still annoyed over the ribbing he's received as, well, the son of a preacher man. He is still a virgin when he encounters former high school bully Adam Bryant as he is fishing lakeside. Bryant, stoic and low-key with a thick cock, offers to de-virginize Black, but the latter doesn't need a lot of coaching. He services Bryant (who does not return the favor) and quickly bends over for a vigorous plow.
Now that he's been laid, Black quickly escalates to sexual blackmail involving Brenner Bolton, a blond musclebod who quickly and easily dominates Black. There is virtually no kissing; however, Brenner sucks Black down to the root, proves himself an aggressive, enthusiastic bottom and then expertly sucks and jacks Black to climax.
One of Black's remaining sexual fantasies is an orgy with four of his former high school bullies. All of them are unsurprisingly amenable to getting each other off. Burly, compact Aspen virtually steals the scene. He engages in easygoing banter and the shit-eating grin never leaves his face when he whips out his sizable cock for servicing from Black, aggressively pounds porn legend Kurt Wild or has adorable Johnny Rapid ride his boner. All four guys jack off onto Black's lean, tanned torso.
Synopsis:
It hasn't been easy for Vadim Black growing up as the Son of a Preacher Man, but all that is about to change. Vadim decides to go fishing and be alone, where he feels the most comfortable. However, as he gets to his spot he sees an old high school peer, Adam Bryant. While talking, Adam confides in Vadim that he is actually gay. Vadim is stunned, but he does wonder what it would be like to have sex. He wraps his sexy lips around Adam's hung cock until Adam eases his thick tool into his tight hole and showers him in cum. Now that Vadim has had his first sexual experience he is starting to open up. As he is walking through town his attention is drawn to Brenner Bolton, who comes from a family of money and would often pay kids to let him suck their cocks. Vadim sees this as the perfect opportunity to make some cash. Brenner rides Vadim's uncut dick until the cum gets fucked out of him, and he is rewarded with Vadim's thick load shot into his mouth. Vadim is now ready for his ultimate fantasy, a hot jizz orgy with Aspen, Scott Riley, Kurt Wild and Johnny Rapid! These five hot guys have fun fucking and sucking each other before they all glaze Son of a Preacher Man Vadim in their thick hot loads.