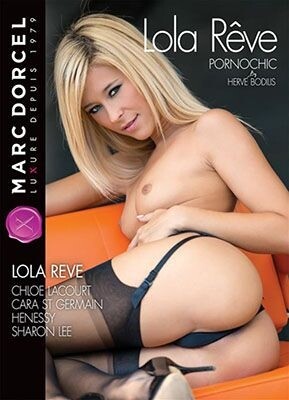 Lola Reve, a French blonde minx in a long line of such that goes back to Brigitte Bardot, leaves her bright red lipstick all over James Brossman's big dick on a terrace overlooking Paris at night. Lots of passion and kissing. When James whips out a condom and fucks her leaning over the railing, she fucks back, like she's really enjoying it. Inside, it's not long before his cock is in her ass. After the A2M, when he shoots in her mouth, she smiles.
Chloe Lacourt and Hennessy drop in on two guys with some champagne. Are they hookers? What do you think? After some girl-girl action, Mike Angelo goes into Hennessy's pussy as Chloe sucks on Ian Scott. When Mike sticks his dick in Hennessy's butt, it's d.p. time. Cara St. Germain visits two male clients for a bit of not too kinky sex, one guy in pussy, the other in mouth. Then it's back to super-hot Lola fucking Tony Carrera at a cocktail party. She blows him in the bathroom and they do some standing anal. In the final brief scene, Sharon Lee, a beautiful Eurasian, sucks and fucks a guy in a parked car at night.
Synopsis:
Lola Reve and her four beautiful girlfriends take you with them into their lustful fantasies and nocturnal perversions. Wearing tantalizing high heels and dressed in elegant evening gowns, seamed stockings and alluring lingerie, Lola, Chloe, Cara and friends are true experts in seduction, and infinitely talented lovers. Pleasure is no mystery to these irresistible creatures.