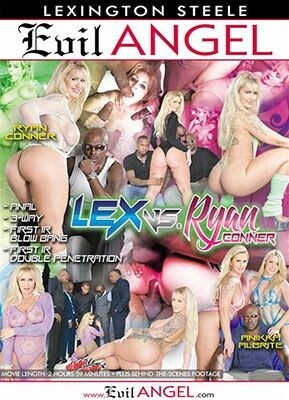 44-year-old MILF Ryan Conner does a fine job, indeed, of oh so sluttily energizing this Evil Angel/Lexington Steele interracial gonzo. Yes, she's a big girl but a taut one; her fake boobies look great, as does her protuberant posterior. And as Ryan wishes to get back into the biz, Lex flatly informs her that she must first "re-prove" herself to him, to which Ryan readily, happily, whorishly responds with MANY a dirty scene.
She first takes it way up the twat then ass (whoa!) from monster-meat-man himself, Lex, followed by a DP with Lex and Jon Jon. And our luscious girl offers up loads of arousing ass-cheek-vibrating action when bent over, i.e., lots of cushion on Conner for the pushin'. Yeah!
More nasty stuff follows… including the volcanic Anikka Albrite triple teaming with Lex and Ryan. Anikka, actually, takes Lex straight up the backside without ANY pre-pudenda pummeling. Geezo! She also feeds on Ryan's pussy while anally riding Lex cowgirl style, ultimately doing a non-cheating ATM. Ryan returns the cunt-sucking favor while getting her own pooper Lex-icised. LOTS of good butt-banging positions here.
Lastly, we get a brace of truly horny sequences. First Lex takes on Ryan as she's wearing a ball-busting, skintight, purple nylon outfit, magnificently highlighting her round, juicy ass; with Steele focusing on her succulent vagina this time; a highlight being Ryan seated on a barstool, her meaty ass cheeks sticking out, with Lex slowly slipping it in her sopping slit. And right when he pops on her buttcakes — boom! — five bloods show up, and she immediately does a blowbang. Conner looks as if she's not going to do the deepthroat/gag thing, but some of the boys show her what's up, and she perkily complies, doing a terrific job, er, blowjob, er, blowbang of it.
In "Lex vs. Ryan Conner," blonde MILF Conner suck-/fuck-cessfully proves that you're NEVER too old to learn new tricks. Good show, Conner baby!
Synopsis:
A spectacularly voluptuous porn favorite is making a XXX comeback, so director/superstar stud Lexington Steele tests the returning MILF's game in the four lusty, interracial scenarios of Lex vs. Ryan Conner. Tanned and colorfully tattooed, Ryan's flowing, gold-dust locks suggest a hyper-curvy version of a bewitching rock diva. Before each scene, the star dances outdoors, lewdly spilling mega jugs and massive ass from see-through lingerie. Ryan kneels in the driveway to worship Lex's gigantic black erection. Inside, a huge butt boning: Your cock is so big, I can see it move in my stomach, declares Ryan, whose pretty face shows the intensity of rectal reaming. Next is a scalding, dark dick double penetration with Lex and Jon Jon. Amid ass-to-mouth blow jobs, shameless Ryan says, My ass tastes good. She gasps and wails through repeated BBC DP blisterings. In a threesome, Ryan and ass goddess Anikka Albrite share Lex's steely anaconda and get bi, sucking tits and eating pussy. Each girls tight bunghole gets profoundly porked, and they share spunk-spackled French kisses. Final scene: Ryan's thrill ride rear rolls and bounces as she breathlessly rides Lex's hose... before a surprise blow bang: The naked, cum-soaked cocksucker opens her eyes surrounded by five black erections. Six loads flood her throat, face, hair and jugs.