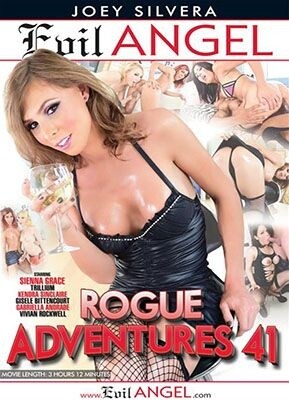 This series, 17 years old, shows no signs of stopping. Vivian Rockwell, from San Diego, tucks her package into her panties and poses. A muscular black dude shows up to kiss her, then fuck her ass. She loves it, moaning, as he slams her in cowgirl. She licks his balls as he jerks off and shoots into her mouth. Trillium, a petite blonde cis-woman, and red-haired, hard-looking Kendra Sinclaire go at it in a gym. The trans-woman stuffs her dick and balls into the blonde's mouth and the blonde eats the t-girl's butt. Kendra fucks her just like a guy would.
The lovely Sienna Grace gets lovingly kissed and caressed by a bearded dude with pink-painted nails and she sucks his dick in return. Then he sucks on her cock. "Are you gonna fuck me or what?" she moans impatiently. Brazilian Gabriella Andrade, a pretty brunette, has a big dick, longer than that of her beefy boyfriend, and a cute ass that he's eager to not only fuck but four-finger gape. Giselle Bittencourt, also Brazilian, is a tall blonde with quite a large penis and a tan young man to suck it and take it in the ass.
Synopsis:
Legendary TS pornographer Joey Silvera has found extraordinary chicks with dicks for the scalding she-male shenanigans of Rogue Adventures 41. Femme California Latina Vivian Rockwell says she started going to school as a girl in her sophomore year, and her first boyfriend didn't know the secret! As muscular black stud Robert Axel reams her doggie-style, she asks Daddy to fuck her harder. Tan, athletic American Kendra Sinclaire dominates pale blonde bio girl Trillium with a deep-throat face fuck and thorough pussy plowing. Kendra calls rim-jobbing Trillium her little ass cleaner. American trans-goddess Sienna Grace is gorgeous in a black cocktail dress. She trades deep-throat favors with bearded bi guy Mike Panic and then goes dominant, porking his asshole it's the first time she's fucked a guy! Studly Alex Victor sodomizes curvy Brazilian Gabriella Andrade into creaming herself. He jacks his own jism into her mouth and she eats their mixed semen concoction. In a high-rise apartment with a fabulous city view, bodacious Brazilian blonde Giselle Bittencourt's thick, towering erection bursts from lacy panties. Tattooed Tony Lee deep-throats her impressively; he's hung, but she's immense. He rides like a bitch, jerking off.