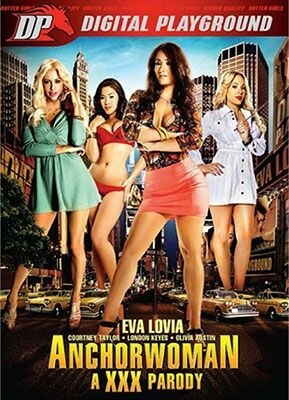 The most remarkable thing about this Digital Playground parody of the mainstream Will Ferrell comedies (from 2004, and the sequel from 2013) are definitely the appearances of Eva Lovia, London Keyes and Dana DeArmond, none of whom do any anal, but all of whom put in relatively strong enough performances to make "Anchorwoman" worth watching/jacking off to.
Eva Lovia plays the title character, who wants to be one of the first "women on television, despite the sexist news program for which she's working, which includes the lummox — Steven St. Croix — playing Ferrell's porn counterpart, who, we have to admit, looks a lot like Ferrell, and does throw a good fuck into Lovia (we've no idea, nor do we want to know, about Ferrell's own bedside manners), as does Erik Everhard, playing one of the heads of the news show. But, then again, it IS Eva Lovia, and with that luscious body (including one of XXX's most stupend-ass derrieres) and pretty face, you'd have to be gay, impotent, or plain dead not to get it up for this fox, even though she has yet to take it up the 'exit-only' hole.
Two other well-oiled fuck sockets putting in horny performances here are London Keyes and Dana DeArmond. Actually, both ladies never put in poor performances because they're still both too damn terrific and sincerely love being on-screen whores. St. Croix heartily slams Keyes — who's wearing absurd makeup, by the way, which is a crime with such a pretty Asianette — her juicy ass cheeks rolling all over the place in the doggie position, while she offers up the best blowjob (deep and nasty) in the entire movie. And Dana DeArmond gives Van Wylde a major suck/fuck, as well. But it is odd seeing these two anal queens (Keyes and DeArmond, not St. Croix and Wylde) only taking it up their velvety vadges. But, then again, "Anchorwoman" IS, basically, a couple's movie, so there you have it.
With its relatively tame sex, "Anchorwoman" is, indeed, a good choice for couples wanting some not-to-terribly intense porn enjoyment for the evening, even though the actual jokes in this parody aren't that funny, the ending is totally predictable (from even the outset of the movie!) and the 'acting' from star Lovia leaves much to be desired. And while big-assed Olivia Austin and pumped-up-chested Courtney Taylor put in somewhat whackable performances, pick up this title for Lovia, Keyes and DeArmond, even though they, once again, don't take it up/down/whatever the poo-poo pit. But, hey, at least there ain't a condom in sight!
Synopsis:
The sexy and career-oriented Angela (Eva Lovia) is done sucking her way to become lead anchorwoman. She has a vision for the Channel 6 News and if upper management can't see it, she's going to spice things up herself. The news needs a feminine touch and with her team of slutty colleagues, they plan to showcase their ability to captivate viewers with their amazing breasts and immaculate legs! The ladies are working overtime and they're headed towards primetime television.