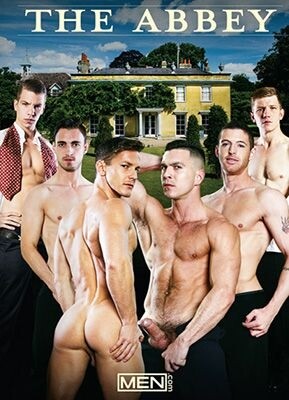 We're transported back to historic England, where the tension between classes heats up at The Abbey — a gorgeous countryside manor. Shot with memorable locations and costumes, this four-scene effort makes the most of its surroundings — and utilizes a cast that convincingly keeps you in the fantasy, aided by dialogue that has an actual point and isn't just filler. Footman Alex Garcia wants more with Duke Darius Ferdynand, who shows up to say goodbye with one last torrid encounter — Ferdynand's big boner bobbing from side to side (and slamming his own chiseled abs) as he sits down on Garcia. Verbal bottom Daniel Johnson gets plowed by Paul Walker and Garcia, who also does a nice job polishing the bottom's big dick.
But the show is stolen — stolen! — by the combustible chemistry between master's son Jace Tyler and chauffeur Paddy O'Brian, the two bonding over their pursuit of equality. The lethal gaze a shirtless O'Brian fixates on the tall, handsome stud is captured beautifully by the camera (those eyes!), and it's off to the races from there. O'Brian balances romance and aggression beautifully, longingly gazing at the bottom while fucking his face (and that accent is to die for). Tyler keeps pace, his steel shaft flying around as he sits down on the driver — these two masterfully maintaining the mood throughout, in one of the best scenes of the year.
Synopsis:
The Abbey has a bunch of stories and secrets that lie in it amongst these sexy men. All is not what it seems, these men crave each other and only in The Abbey can their lust and feelings pour out in pure sexual bliss. Cum into The Abbey, you will not be shunned away!!