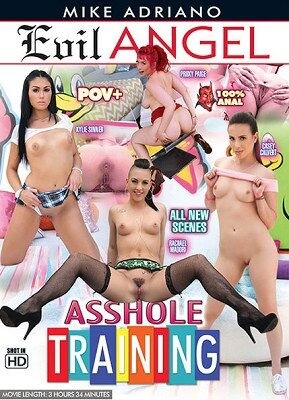 Nope, the title of this Evil Angel gonzo does NOT refer to (believe it or not) Democratic and Republican presidential wannabes being trained for their seemingly endless debating bouts. Sorry to disappoint. But the gonzo ITSELF most certainly does NOT disappoint. Quite the cunt-rary. That is, the training of these four delectable female assholes is outstandingly done, courtesy of director/degenerate Mike Adriano, as all of the girls provide superbly filthy suck/fuck jobs, with high points of whorishness especially going to goofy cutie Proxy Paige and ultra babe Casey Calvert.
Comical — yet similarly dirty — Proxy Paige, 26, looks like she'd just be so FUN to fuck, what with her terrifically beaming, joking, downright happy attitude. She's also one of the sloppiest (a good thing!) deep-throat blowjob artistes I've witnessed. We also dig her joyously bounteous butt cheeks, which mesmerizingly wobble during anal in the reverse-cowgirl position. She even eats Mikey's farts. Nasty, nasty, nasty. Prox is similarly magnificent in the doggie position (that marvelously marshmallowy ass? — you kiddin'?!), while she also enjoys having Adriano shift his well-lubed-with-natural-cunt-and-ass-juice prick back and forth (back and forth…back and forth) between her twat 'n' tukus.
Proxy even jokes a bit — but in a sweet, non-judgmental way — when Adriano prematurely pops, after pullin' his over-used penis outta her stink pit in the missionary position. And that same brief cum-burst also explains why Mikey ultimately blows his load directly INSIDE Proxy's mouth at the cunt-clusion of her rockin' anal scene. Seems a bit of a cheat, since we don't see anything 'cumming' outta his prick and into her hungry gob. It's still a great scene, though, and lil' Mikey does (as mentioned during the mish posish) visibly splat, if a little early, at that.
Kylie Sinner, 20, is a pretty little Cuban-American who's so sweet-looking, she almost appears if doing this sex-on-camera thing to piss someone off — bad for them…but GREAT for us! She likes to gape, as do all of our naughty young anal-minded ladies, and is quite the little cocksucker, providing plenty of gagging and other wonderfully rude noises. Additionally, Kylie, like Proxy, doesn't mind eating man-ass. Quite a gal, indeed!
And then there's the amazing Casey Calvert, who always elevates (be it by adding class and/or ass in) any porn movie, with her "Asshole Training" sequence definitely being one of the showstoppers in this all-around X-cellent title. Calvert looks fantastic, even with the minimal makeup she's wearing here. But, interestingly, her face actually grows more and more attractive as she's getting fucked. Seriously. A glow seems to come over her! Cocksucking-wise, she chokes quite heartily on boy-beef, going as deep as possible. And, like Proxy, Casey revels in having Adriano switch his prick between her honey hole and fudge factory. We love her winking anus, too, as she spreads her meaty thighs oh-so-wide in the missionary position. But, hey, it's Casey Calvert, so she looks great in ANY position, particularly whilst doing doggie, what with that otherwordly juicy ass of hers. We hope Casey stays in porn for a good long-ass (emphasis on "ass") time. Love her!
Rachael Madori, 20, provides a fine ending (as does her fine end itself, as well as her provocative punk haircut) to this terrific taco-'n'-turd-tunneling X-travagonzo. With quite the killer bod — including one healthy pair of butt cheeks — she's a truly upbeat gal, always smiling and willing to please Adriano's camera. And, aside from Rachel taking it way deep in her mouth — then in her cunt, then in her anus — her scene provides one of the few pop shots which we can actually see, with Adriano (rather than jamming it way down a girl's mouth and unloading) adds his own brand of frosting to a cupcake, with up-for-anything Rachael more than willingly consuming the gnarly pastry. Terrific actress!
Nope, there isn't a bad anal — or cunt, or blowjob — scene in this entire four-whore batch o' licking and stickings. And even though our director/performer enacts his relatively new cram-cupcakes-and-bananas-up-the-asses-of-cute-girls absurdities at some point in each episode, "Asshole Training" is ab-so-fucking-LUTELY worth a look-see!
Synopsis:
Personal anal coach Mike Adriano wants his girls to perform at their best that's why he uses his special method of Asshole Training to make their sphincters stretch and wink! In four close-up, nasty scenes, Mike invades the butts of his gorgeous young starlets with his tongue, his enormous cock, toys and even strategically shoved cupcakes leaving their tender rumps gooey, frosting-slathered messes and graphically gaping, prolapsing spectacles! Pale, red-haired Proxy Paige gets her generous ass expanded with giant dildos and Mike's throbbing boner. Nineteen-year-old Kylie Sinner only does anal scenes! Mike shoves gummy candies up her rectum; she pushes the melted confections into a glass. Kylie sucks his dick ass-to-mouth and even rims the director's bunghole. Sultry brunette Casey Calvert treats Mike to some wet, slobbery, ass-to-mouth deep-throat sucking. All natural, young punkette Rachael Madori gets her open, swollen rectum filled with Mike's meat and widened with an anal speculum. Rachael eats a cupcake frosted with the director's splooge!