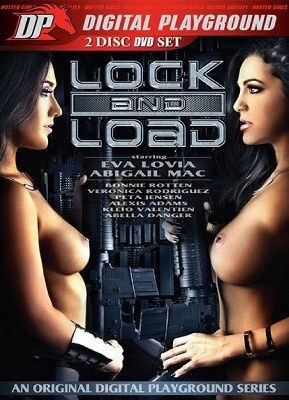 "Lock and Load" is another one of those Digital Playground porn features with women trying to act as macho (if not even more bad-ass) than the already mas-macho dudes, as well as hold bigger toy guns than the gents. There's also a bunch of explosions, i.e., not-so-special effects. But, I mean, is all of this stuff the point of a fuck film? I think not. "Lock and Load," by the way, could have easily been one disc instead of two had the director/producers dispensed with the heavy padding typically going into these "series" (what happened last episode?/what's gonna happen in the next episode?/you know, all of that crap). But, believe it or not, there ARE a few good sex scenes in L&L.
Danny Mountain plays James Blast (what a name), a former CIA agent who became an independent hitman (crank that suspension of disbelief way up, Bubba), with Blast now wanting to go straight and spend a nice, simple life with his wife (Abigail Mac); until, that is, the mob (or some sinister organization) snatch his wife and threaten to snuff her unless Blast kills their opposition, putting Jimmy boy on a mission to save his beloved, while leaving behind a trail of bullet-ridden corpses — and well-fucked bitches!
Actually, you'd think there'd be at least TWO scenes with the female leads in this flick, namely, Abigail Mac and Eva Lovia; but each woman only has one (you read right) boink slot allotted her. And while the Mac/Mountain coupling is fair, the Lovia fuck-isode is totally under par in terms of what COULD have been a superlative happening — had it been covered better! — what with Lovia packing such an all-around nuclear bod, from face to t&a.
But, hallelujah, there still remain a few good pulled-pork sequences in "Lock and Load." Peta Jensen, for one, delivers a scorcher, letting some bespectacled schmoe, looking like a tattooed and much-younger version of Harlan Ellison, really bang her horny brains out. Alexis Adams is also strokeworthy as a cutie showing off her hot stuff, as some Satanic-lookin'-kinda dick stuffs her in a dark room with candles all around. Moodily decadent. We just wish Adams stopped cupping her hand over her right ass cheek and, thus, covering half of a beautiful pair.
Abella Danger, as usual, puts in a solidly slutty performance, even if this same young anal princess doesn't get hammered in the shitter. Actually, there's not a bit of anal in L&L. As a consolation prize, however, there aren't any condoms, either.
But by far the best scene spotlights Latin sexpot Veronica Rodriguez, who has the most scrumptious body in the entire movie; gives the most superlative blowjob (next to the marvelously gagging Miss Danger); and works herself into a steaming lather as she sucks/fucks John Strong in a multitude of horny positions. I just wish there were MORE scenes in L&L with this volcanic Venezuelan vixen!
Aside from the above-mentioned fairly arousing boning sequences, "Lock and Load" is really just basic fodder for 'experimenting' couples too inexperienced to know that there's way filthier smut out there. For starters, the whole point of assassinating James Blast (that name) is never really made clear. Also, Lovia's supposedly pivotal character suddenly just…disappears without any explanation. Did I miss something? Also, if Blast is so deeply in love with his fucking wife, why the shit is he humping Abella Danger's character? I mean, I can understand him having a wet dream about reaming Danger, which would make more sense, thus maintaining the moral fiber of his own character.
Synopsis:
James is a retired hit man, enjoying his continuous bedroom romps with his horny wife, Abigail Mac. In the middle of the night, intruders kidnap his wife as they beat him to a pulp. Later he receives a phone call from Danny, his old employer. Danny tells him he can't retire, and he has an assignment to complete or his wife dies. He accepts, but upon arrival to the location witnesses big-breasted vixen Alexis Adams screwing a random guy. Not easily distracted, he continues his job, but discovers a target on his head worth a million dollars! Danny makes calls to several hit men, particularly the sexy Eva Lovia, whose incredible ass could kill with one look. Once she's finished banging her boy toy, she promises to kill James immediately. Too bad she doesn't know James has nothing to lose, and he'll kill everyone to get the love of his life back, even if it's for one final day!