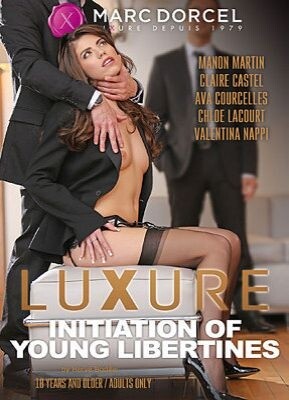 Five elegantly shot and very erotic vignettes from master French pornographer Herve Bodilis. Young girl Manon Martin gets a silver buttplug inserted in her anus, and this turns into a threeway as she sucks off another guy while being fucked. In a hot-wife scene, blonde Chloe Lacourt talks to her husband in a bar while looking past him at another man. He instructs her how to pick him up. She meets him in the restroom, they fuck, and she returns to hubby with a smile on her face.
Pretty brunette Claire Castel heads to a party with two men. She blows one while the other plays with her pussy. It winds up as a d.p. No words exchanged. Ava Courcelles gets driven to a hotel by her boyfriend for sex with another man. She takes lots of photos of the action and texts her friend that she's taking the cock in her ass. She returns to car, shows him the pix. They're turned on and eager to fuck at home. Valentina Nappi makes out with a guy in a cab as the driver watches in rear-view mirror. When the couple arrives at their destination, they fuck. Not much happens but it's a sexy scene, starting with the ride through nighttime Paris.
Synopsis:
Claire Castel, Chloe Lacourt, Ava Courcelles, Valentina Nappi and the young Manon Martin have got all dressed up as sophisticated and sexy women to please their husbands.
They invite you to enjoy five exciting sex games and follow them closely in their initiation as libertines and their first experiences of "candaulism". Prepare yourselves for a completely new way of tasting the forbidden fruit as a couple…
close
E-mail this to a friend
Initiation of Young Libertines
Email sent. If you wish to send to another person, click here.