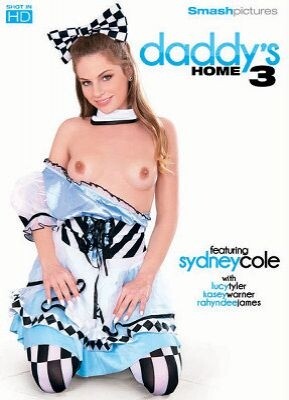 Smash Pictures mines some familiar territory with "Daddy's Home 3," but that's ok because this is the kind of territory that never gets old. Yes it's the tried and true older dude with barely legal vixen hookup in all four scenes.
But what pumps up the sleaze factor in this one is they take it to extremes with the Lolita-inspired wardrobe for the young ladies and some downright filthy dialogue in the lead-ups. Infusing the forbidden taboo of the step-dad and his stepdaughter in a compromising situation, super sluts Sydney Cole, Lucy Tyler, Rahnee Jaymes and Kasey Warner do the honors with a group of seasoned studs.
Perhaps Cole got the box cover because her scene may feature the creepiest setup, as she plays the piano in her doll outfit while her stepfather Evan Stone stares at her in the distance like a hungry wolf.
Of course he tells her, "don't tell your mom" before going for the grand prize — a ball-draining session with the willing babe.
Steven St. Croix is an expert at these scenarios now and looks right at home helping Lucy Tyler take a bath before he gets to home base.
After Kasey Warner and Marcus London turn in a professional boff, our finale features the girl with the best tan of the bunch, the hard-bodied Jaymes. First she prances around and then seduces Tommy Gunn until he can't resist crossing that line with her and we're glad he did.
No surprises here, just good dirty sex with a filthy premise.
Synopsis:
Sydney Cole was very lucky her mom married Mr. Stone. He pushes the young lady to strive for academic excellence. She in turn pushes the limits as this little Lolita seduces her step daddy week after week. When Lucy Tyler's mom leaves for the day, it's time for her step daddy and her to play dress up doll. Kasey Warner feels pretty sexy in the high school play little red riding hood outfit. And a little naughty too as she rides her step daddy, the big bad wolf. Rahyndee James feels bad that her step daddy never had a real daughter of his own to dress up in real clothes. So she decides to cheer the old man up and parade around in a sexy costume for him.