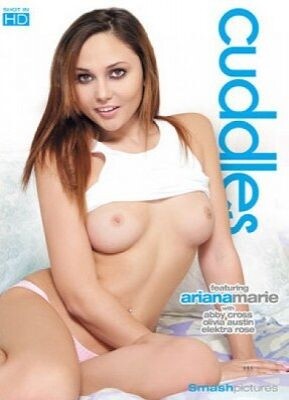 Whether Smash has actually introduced a new "fetish" remains to be seen, but we do give them credit for trying something different with this title dedicated to something so rarely seen in porn — cuddling. Each of the four scenes starts with the girl on camera playfully telling viewers how much she loves cuddling.

Then we cut to the actual scene where it starts with the guy spooning the girl, a little dry humping and foreplay before what is relatively by-the-numbers sex. We get a cuddle, a blowjob, a few positions and a popshot. It's all well-lit, but it's also unremarkable.

The cover girl Ariana Marie leads off in a nice session with Seth Gamble; this spinner's profile has grown considerably in the past year and it's not hard to see why. She's 21 and her body is as tight as they come. The movie's best scene, however, involves Abby Cross, who claims, "the only thing missing in my work life is cuddling."

Cue Marco Banderas, who cuddles Cross and then blasts her box in multiple positions while she seems to genuinely enjoy the ride.

Electra Rose and Will Powers step up next in a decent hook-up and then fellow newcomer Olivia Austin spreads for Derrick Pierce in the closer.
Synopsis:
These young little hotties just love to cuddle and snuggle but our guys have other ideas on their mind. By the time they get done with these girls, they bring out the inner ultra-slut animals they were hiding the whole time. Girls say they want to cuddle and are looking for a nice guy with a good personality, but when you get down to business, they just want to get bent over like the whore next door and show off their skills at giving you a kick-ass blowjob!