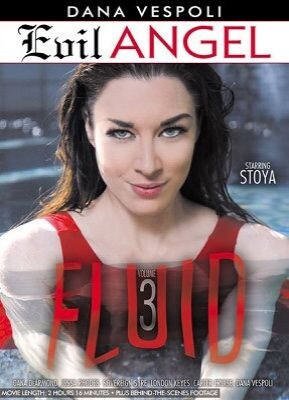 With each of its four vignettes (of sorts) revolving around the theme of water, "Fluid 3" gets off to a grand, scorching start. Unfortunately, each successive sequence is weaker than its predecessor. But we're very happy to report piping hot tarts Carter Cruise, Jessa Rhodes, and London Keyes are their usually deliciously decadent selves in this relatively new title from Evil Angel director/performer Dana Vespoli.
The very first "story" (more like a hyper gonzo, really) is excellent in that it's a high-energy threesome between Cruise, Rhodes, and (initially, an almost unrecognizable) Manuel Ferrara. It also starts out with great editing, funny music, and entertaining comedy as two hookers wildly dance for their somewhat corpulent, but wealthy trick. It actually begins very much like a cool music video. The scene soon transitions, though, to our three players intensely getting it on within a stark room in one of those mini (very mini) inflatable swimming pools. And, yes, they all eventually step out (in more ways than one!) from the pool. Cruise and Rhodes both have phenomenal bodies, and Ferrara definitely gets the most out of these beauties, even though (shucks!) Cruise doesn't do anal here.
The next scene also starts off as an upbeat music video — featuring two female mimes (Dana DeArmond, Vespoli) and three males ones — before the incomparable London Keyes appears (looking, quite contrastingly, sullen and wearing a sort of kimono), leading to an intense three-man blowbang. Keyes is awesome, really taking that man-meat way down her gullet. She's also a trooper in that she gets repeatedly dunked in water (there's that fluid "theme" again). The problems are the absurd presence of two fake cocks (which DeArmond and Vespoli wag and make Keyes suck), as well as the fact that London's exquisitely luscious body is kept almost totally clothed during the blowbang. What a waste!
The third story starts off with a beginning journalist (Sovereign Syre) interviewing an infamous journalist (Steven St. Croix), which goes on and on and on… before St. Croix basically dominates Syre in a large bathroom (more water), with plenty of BDSM goings-on, mixed with sex. The last scene has Vespoli herself acting like a sort of female Edward Scissorhands, eventually getting a visit from a hot dyke, Stoya, with both of them (or maybe just Vespoli, as it's never quite clear) curiously fantasizing about swimming underwater together, before they eventually get it on. Sort of. The downfall here is that it's, at best, a tepid lesbian scene in terms of mouth-to-twat action, with the ladies spending more time simply kissing. That's fine, but smooching (and hugging) shouldn't be the majority of a girl-girl sex scene.
Even though it has faults, "Fluid 3" is a visually exciting movie, with crisp, sharp videography and some very creative moments.
Synopsis:
Stylish director/beautiful performer Dana Vespoli presents a variety of liquid fetish in the ambitious, visually sumptuous "Fluid Volume 3." Smokin' hot, natural-breasted blondes Carter Cruise and Jessa Rhodes romp and splash in an inflatable pool. Then it's a threesome of slobber, spanking, choking, rim jobs and rough fucking with stud Manuel Ferrara (in cartoonish rapper gear). The director and brunette beauty Dana DeArmond don strap-ons and join three studs surrounding American Asian cutie London Keyes for a rough circle-suck. London's head is repeatedly dunked in a tub as an underwater cam shows her face plunging in! The pricks plaster London's face with thick sheets of spunk. Curvy Sovereign Syre and veteran stud Steven St. Croix play out a tense power exchange scenario; the curious girl succumbs to the dominant fucker for fearsome breath control and sex in a running shower and full bathtub. Gorgeous underwater shots show Ms. Vespoli and pretty, pale Stoya making love in a pool. Out of the water they share cunnilingus and flavorful pussy-to-mouth kisses. The movie pays tribute to iconic cinema; two scenes start with theatrical, costumed dance intros.