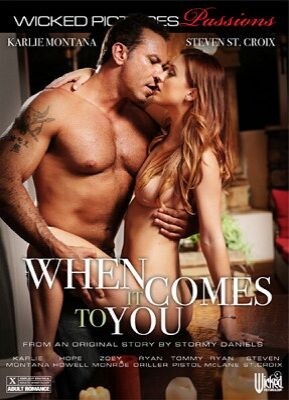 This Stormy Daniels couples film for Wicked Passions hits all the right romantic stops. Karlie Montana is excellent as a young woman who can't make up her mind between an old flame and a new fiancé. It starts off with a very sensual scene where Karlie literally melts for her older, divorced lover James (Steven St. Croix).

Her sister (director Daniels in a non-sex cameo) warns her about rushing into marriage with new flame Thomas (Ryan Driller). Zoey Monroe, as Karlie's BFF, is also skeptical, knowing how much she's still hung up on James. In the end, on her wedding day, Karlie decides to "follow her heart" — even if it doesn't lead where she thinks it will.

Good acting, passionate sex and great erotic chemistry enhance the fairly simple story. Karlie is very believable as the conflicted heroine and gives her all in scenes with St. Croix and Driller. She also has really beautiful tits. There's a heavy emphasis on cunnilingus, not surprising from a woman director; Stormy makes sure that all the girls get off. In the supporting cast, Zoey has a steamy shower scene with Ryan McLane and Hope Howell, as another friend, gets well banged by Tommy Pistol.
Synopsis:
When It Comes To You is a captivating and scintillating story of a woman torn between two men who both profess great love. Anna is engaged to marry "great guy" Thomas but unbeknownst to Thomas, Anna's ex, James, with whom she experienced great passion, is back in her life. Will Anna opt for security or passion - or will her future be out of her control? Finely crafted and hypnotically erotic, When It Comes To You is the ideal "date night" movie!