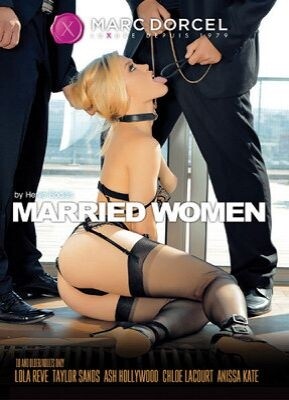 This is a superb product for fans of "50 Shades of Grey." Five all-sex vignettes play knowingly with the heady vibe of kinky sex in luxury settings. Starting off, the terrifically hot Lola Reve, bare-assed, ball-gagged and cuffed, is taken to a country manse by a masterful man who, after a lot of tease, fucks her ass. The most erotic scene has the drop-dead gorgeous Anissa Kate making breakfast for her lover, who uses the handle of the whisk she used to scramble the eggs as a dildo in her anus before they have sex on the kitchen counter.

The other scenes are threeways, all very hot. Chloe Lacourt meets her hubby at a boutique hotel for some afternoon delight involving lingerie, a blindfold and a gold buttplug. American pornstar Ash Hollywood teases her man in a luxe apartment and cheerfully submits, on her knees, to him and another guy. Cute Taylor Sands shares kinky sex with her man and another gal. Cuffs, ropes, dildos, are all laid out in prep for a party. There's some girl-girl action with dildos, then standard doggy-style fucking. Like the other scenes it expertly combines rich backgrounds and sexy attire with BDSM-lite sex.
Synopsis:
Combining perverse domination and sexual surprises, these society couples don't lack imagination when it comes to spicing up their sex life. In order to fully enjoy the pleasure of the unknown, they are willing to try everything! Like Lola Reve and Chloe Lacourt, Anissa Kate, the American Ash Hollywood and young Taylor Sands are about to enjoy a unique experience… Half-naked and hand-cuffed, the sublime Lola walks in a cold park under the stern look of her perverse husband. Once back in their manor house, she begins to walk on all fours between his legs, like a docile little animal in heat, entirely at the mercy of her man.