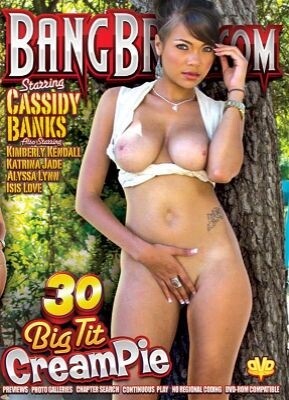 Big-titted bitches each getting her ever-famished cunt filled with warm sperm. It's good, sexy stuff from Bang Productions, with five lades (count 'em, five! — as opposed to yer chintzy four whores in most XXX productions), all greased up (love it!), and sharing their sizzling wares with faceless male slobs, with extra points definitely going to bustin'-out babes Katrina Jade and Cassidy Banks.

And, yes, the movie starts out on a high note, indeed, with 23-year-old, fair-skinned California girl Katrina Jade and her awesome, all-natural 30-G-sized boobs; luscious, round butt; and pretty face. Okay, so Kat may not be the most animated, energetic girl in Smutdom, but she's visibly INTO getting fucked — or she's one helluvan actress. Tangible evidence, however, of her need for seed is the word "Slut" tattooed on her ass. One classy lady. Which is why she's perfect for a Bang Bros. production. Oh, and above her pubic area, she has the tattooed inscription of "Daddy's Girl." Uh…er…uh… Well, we wanna go there… but we don't wanna go "there," if you know what we mean. Also, there's an abrupt, quite obvious cut just before the "cum" is deposited inside Kat and she oozes it (or whatever 'it' is) out of her pussy. Hmmm… Anyhow, potential production 'cheating' aside, this girl is at the peak of her sexiness. Don't miss her — and those juicy, swirling tits. YUM!

Our second highlight is 22-year-old Cassidy Banks from Colorado, an exotic-looking beaut with another pair of amazing tits (32-D) and a set of juicy butt cheeks who knows how to grind down on man-meat via her sopping cunt. Note: The Bang Bros. have a superb way of filming girls in this title from a low angle as they're reclining back in a chair, legs spread wide, cunts sticking out, as a big dick goes in and out (sometimes fast, other times slowly) of their fertile twats. And Cassidy is outstanding to view in this steamy position. Also, the ball batter Banks receives here is, yes, a REAL popshot, as you see the gunk spurting from the lunk's tree trunk.

The other busty bimbos? Kimberly Kendall is a Hispanic-looking brunette — with pretty-good-looking fake boobs and a memorably jiggly ass — who has one meaty cunt, and is very much into her humping/pumping/dumping. Isis Nile has a fine ass and knows how to seriously work a stiffie, giving us another real spurtin' creampie. Unfortunately, the movie ends on a bit of an 'anti-climax' with an Alyssa Lynn scene that has another abrupt/quick-cut creampie, naturally making the veracity of such highly suspect.

Otherwise, four out of the five scenes are totally worth checking out, especially those featuring Kat (wow!) and Cassidy (wow! wow!). The main problem? It's the annoying mumbling and noisemaking behind the camera by crewmembers when they interview (for way too long) some of the girls. But if you ignore that technical flaw, "Big Tit Creampies 30" is good, strong medicine for junkies of well-endowed tramps living on the edge of motherhood.
Synopsis:
Alyssa Lynn - Creampie for big tit MILF! Isis Love - Busty Latina MILF gets creampie filling! Katrina Jade - A creampie for a sexy newbie amateur! Cassidy Banks - Busty amateur gets a creampie! Kimberly Kendall - Hot big tit brunette gets a creampie!