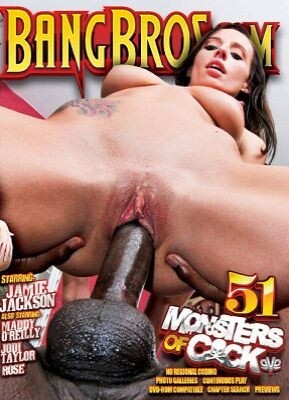 Young, white sistahs take on big, black bubbas in this Bang Productions title, with high grades going to all four featured ladies; but even HIGHER ones going to way-sexy DVD cover girl Jamie Jackson and juicy-assed Latina Rose Monroe.
The ever-good-natured Jodi Taylor begins the fornicating fun, as she's constantly giggling; when, that is, she isn't irritating her tonsils on Sean Michaels' massive wagging boner, which similarly fills her sweet, tight pussy to the max. Jodi is worth every inch you can muster in terms of cock length and sperm quantity. She's a keeper!
We particularly loved, however, the extraordinarily professional attitude X-hibited by curvaceous and hot-titted/hot-assed Jamie Jackson, letting the 'handsome' Rico Strong bang her beautiful booty, though her awesome asshole remains, sadly, untapped in this sleaze session. Jamie, by the way, can suck a mean cock and will definitely wow you the way she rides Rico's rod in the doggie and (squatting, up and down) cowgirl positions. Awesome stuffings!
And then there's phenomenally luscious Rose Monroe, heroically taking on our returning 'handsome' black gent deep down her Hispanic honey hole/way up her hemorrhoid hamlet. You'll absolutely lose your wad quick when you see her slowly but passionately riding Rico cowgirl style, her ample butt muffins undulating like over-sized water balloons. Whew! Love that sweet stinkin' Rose!
We end strong (without Squire Strong, by the way), as cutie Maddy O'Reilly takes it oh so well up the poop pit. Maddy's a courageous girl, too, getting intimate with Moe Johnson, who adds to the pound proceedings as he seriously cornholes Maddy in a kitchen, with our girl also offering some choice deepthroating, though she cheats somewhat on the ATM (there's a highly suspicious lap dissolve between cock exiting anus and entering kisser). Still, a powerful ending: to the movie AND in the form of Maddy's superlative shitter.
All in all, the delightfully drillable and dirty damsels in "Monsters of Cock 51" will make you blow a monster load…per scene! So pace yourself with this one. Hell, you won't have a choice!
Synopsis:
Jodi Taylor - Perfect white girl ass for black dick. Maddy O'Reilly - Balls deep in that white girl ass. Jamie Jackson - Big black dick for sexy brunette. Rose - Thick Latina tries anal with a big black dick.