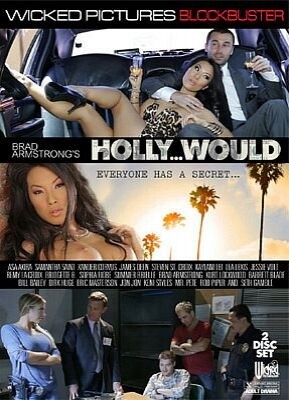 Wicked Pictures gives us a feature that's perfect for both couples, since it has an viewer-friendly storyline and not-too-outrageous sex, and hardcore devotees, i.e., you get oodles of anal probings and, of course, the incomparable Asa Akira, who puts in a LOTTA outstanding work here (both between the sheets and as a surprisingly good actress), never delivering a bad note.

The story—which has just enough humor in it to keep it from being too dull or dramatic—concerns the life of a high-priced escort named Holly (Asa) whose comfortable life, unbeknownst to our protagonist, is threatened by an undercover cop (played by Samantha Saint). But it's all really Holly's story, her narrative. "I was Holly," her voice-over relates to us at the outset of the tale, "and I was a whore." Boom! We immediately like Holly for her candor and honesty. Better still, we first HEAR her narrative as she's getting royally banged in the ass in the back of a moving limo by a mainstream actor (in this case played by James Deen). And how can you not love a woman like that? And while Holly at first seems a wee bit cold (never when it comes to the sex, though), her character, thanks to Asa's impressive acting, progressively becomes more and more likeable, until you're totally rooting for her.

And you'll really be blown away by all of the awesome sucking and fucking Asa does here, especially if you're an Asa believer—and if not, you'll definitely become one. Let's see, aside from getting reamed in the ass by Deen right at the start, Asa follows up with Kurt Lockwood, playing a writer (oh, what a stretch of the imagination, indeed!) who jerks off upon her picture-perfect face; fucks a "virgin" rock star in a highly secret sex club, which the cops want to bring down, and Holly along with it; does a six-way poolside interracial tryst with two fellow whores (played by Bridgette B. and Lea Lexis) and three brothuhs; fucks Steven St. Croix, portraying a kinky actor who slams Holly in his trailer; and does Keni Styles, playing a kinky clothes designer, who gets to jump the bones of both Asa and Samantha. Finally, Asa really shines in the climactic orgy at the hush-hush sex club, with our girl getting heatedly DP'd, along with having many other cocks penetrating her during the full length of the extended, unruly (yes!) group sex.

Other stroke-worthy sex scenes include Jessie Volt intensely sucking and fucking Xander Corvus (playing a weasely actor who's also one of Holly's customers and, after getting busted on a small drug charge by the cops, spills his guts out by tipping them off about the existence, if not the exact location, of the secret sex club); the always-welcome Kaylani Lei in the final sex orgy; and Samantha Saint, in the same multiple-cock-and-hole outing, really sweating it up when pounded doggie style a la James Deen.

If you like a lotta Asa—where she not only fucks like her usually sexually powerful self but creates a believable, engaging character with whom you stick throughout the whole (kinda long but still enjoyable) movie—then you gotta get this pic.
Synopsis:
Fresh off of the award winning and critically acclaimed features Underworld and Aftermath, director Brad Armstrong spins yet another dramatic tale. With Holly … Would, life is going great for high-end Los Angeles hooker Holly (Asa Akira) and her private nightclub – "The Club". That is, until her livelihood is threatened when someone drops a dime on her operation. Undercover cops attempt to infiltrate the club, which leads to murder, deception and of course – heart pounding sex! Fans of Armstrong, Akira, beautifully crafted storytelling and passionate sex will love Holly … Would!