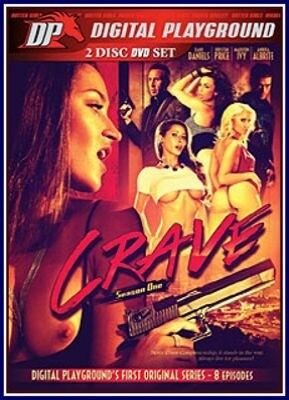 In this Digital Playground "Series," we get two discs (four episodes per disc), wherein we explore the lifestyles of three Valley Girls and their white gangster boyfriends. That is, when the boyfriends aren't shooting up rival criminals, they're banging their bitches, while the latter never seem to even do a DISHONEST day's work, but rather shop, party, suck, and fuck. It's a porn soap opera. Can you tell?

In Disc 1 we're introduced to a host of characters with some (not many) plot developments and a smattering of good sex. In the opening episode, "Girl Meets Boy," Dani Daniels boinks Bill Bailey at a rave party to get the interest of stranger Xander Corvus, as he's slamming Evi Foxx nearby. Next, in "I'm Superman," we find our three inseparable girlfriends (Dani, Anikka Albrite, and Madison Ivy) at the mall, during which Madison fucks a clerk in the dressing room of a clothes outlet. Nice, tight little butt on her. Later, Albrite and Mick Blue get it on at their pad before Blue gets shot by a rival gang. "Got Your Attention?" has Dani and Xander finally getting it on in an abandoned industrial garage. Moody. Later, John Strong, playing some kind of obnoxious crime boss, bangs Brooklyn Chase in his office. And in the fourth episode, "Retaliation," to avenge Mick Blue's shooting, Xander and Ryan McLane blast away their rival West side gang members. In slow motion, of course. After the bloodshed (which isn't at all bloody), Ryan gets it on with Madison in a standard bedroom scene. Disc 2 actually has much better all-around sex. In "Walk Away," Kirsten Price and her criminal boyfriend Keiran Lee screw like mad, with Lee and his gangsters then blowing away a bunch of the Xander's East-side thugs. Yep, more slo-mo murder. The highlight in the next episode, "Gathering Experience," is Anikka, Dani, and Madison exercising in cute, colorful, sexy gym clothes by poolside at night; before, that is, they engage in a molten three-way tryst, which is one of the very best lesbo sequences I've seen in some time, with plenty of buttlicking and some superb daisy chain action. Later, Albrite and Keiran fuck in a bathroom at a restaurant. Romantic. Albrite's big butt is, naturally, worth seeing, as it bounces in every direction in the cowgirl position. "Oh, Brother…" basically features Dani and Xander having a good boink session on a sofa at night. And finally in "Boy Saves Girl?" all three girlfriends are tied up and gagged by evil rival mobster Keiran, with Lee fucking blonde Asian slut Mia Lelani in front of his captive audience, which includes some long and messy cocksucking. So, will Xander and Ryan save the ladies? Tune in and see…

"Crave" is, indeed, an excellent feature for couples not wanting anything too kinky or heavy duty. Yet, while there's some high-energy sex here, the problem with a "series" like this one is, well, how many times can we witness the same couples fucking?
Synopsis:
Years of peace on the streets have allowed Xander Corvus' West Side gang to live like kings -- taking whatever or whomever they want, whenever they want. They live fast and fuck hard, but when a rival gang moves in on their turf, their resolve to protect their kingdom is put to the test. Despite the chaos, Xander meets Dani Daniels, an innocent faced beauty with a killer body. Lost in the taste of her lips and the welcoming invite of her thighs, Xander catches a glimpse of a life without guns and drugs, but first he'll have to overcome his cravings for power and greed. Dani, however, senses only death and destruction in their future… and as the streets begin to burn form the violence, her fears prove true. East Side gang members kidnap Dani and her girlfriends in order to draw Xander out into the open. Retribution needs to be paid, and Xander is ready to bring hell down upon all who stands in his way."