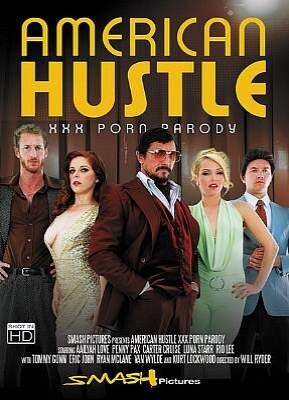 Porn parody papa Will Ryder scores again with this fast-paced riff on last year's comedy hit about con artists in the 1970s. It opens in an Italian restaurant where the lead characters conspire over checkered tablecloths to the thump of disco. The camera pans from table to table as the backstory is revealed in voice-over by Tommy Gunn. A terrific opening.

Gunn plays a con man with "a bad comb-over" who, with his lover Sydney (Penny Pax), rakes in the bucks bilking dumb investors. But their luck runs out when an ambitious FBI agent (Ryan McLane, with curled hair just like Bradley Cooper's) threatens them with arrest unless they help him bring down a corrupt New Jersey mayor and his Mafia cohorts.

Complicating things is Irving's hot blonde airhead wife, played by Aaliyah Love, who out-bimbos Jennifer Lawrence, being just as funny and even better looking. All the movie's best jokes are here, like the exploding "science oven" and Irving's pre-coital warning, "Don't touch my hair."

Penny Pax is a dream, all red tresses, ivory skin, blue eyes. She does the character's fake British accent and fucks her heart out with McLane. But the sexual spotlight shines on newcomer Carter Cruise as the mayor's wife, who tears things up in a threeway with her hubby (Van Wylde) and a phony "sheik" (Kurt Lockwood). The original's Mafia kingpin has been changed to a queenpin, played by spectacularly endowed British exotic Rio Lee. She practically devours her henchman, Tommy Pistol.

Ryder, of necessity, simplifies the plot, coming up with a cute, if less twisty, ending. But he matches the original in high energy, great comic acting and an eye for the '70s look (thanks to production designer Scott David). And the carnal fireworks are all his own. This is one of 2014's best parody features, loaded with laughs, looks and hot sex.
Synopsis:
Two swindlers fall in love amidst an FBI sting but when Irving's wife Roselyn sleeps with the mob, things get downright dangerous. Politicians, criminals and the Feds clash for intrigue and plenty of graphic sex in the year's best parody. American Hustle XXX will leave you breathless and entertained.
close
E-mail this to a friend
American Hustle XXX Porn Parody
Email sent. If you wish to send to another person, click here.