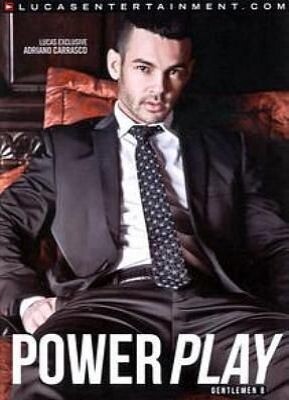 Bless you Lucas Entertainment for filming a fantasy from my dreams: cocky Brit Paddy O'Brian dressed in a suit, his anger building toward subordinate Esteban Del Toro as he fires off verbal commands in that hot accent: "Why don't we make some use of your mouth?" he yells. "How about every time you're late, you can suck my fucking dick!" Yes, ma'am! O'Brian soon lies back in his executive chair, his gorgeous chest breaking out of his button-down shirt as Del Toro wraps his luscious lips around the hunk's perfect package. The bottom then sits down on it O'Brian frantically pumping him from below like an animal, finishing him off by dumping a huge load all over his face. Phew!

More suits and ties are on display in four more scenes combining mostly international talent. Chiseled top Adriano Carrasco gets two scenes shoving his big uncut dick inside Fernando Torres in the opener. Later, he gets a visit from horny Mathew Mason who shows off his own boner as he gets fucked. Kayden Grey gets a hot lunch break with top Gio Cruz, the verbal bottom stealing the show as his massive boner bobs up and down while getting fucked. The closer has Maikel Cash fucking gym bud Toby Dutch.
Synopsis:
9 Hot Businessmen! 2+ Hours Of Hot XXX Action! When our gentlemen use a 'Power Play' to get their men in bed after a hard day at the office, the real fun begins! Fernando Torres invites Adriano Carrasco into his office after hours for a performance review he'll never forget. Gio Cruz cruises Kayden Gray on his lunch break. Adriano later invites his business colleague, Mathew Mason, up to his hotel room for an erotic meeting. Toby Dutch and Maikel Cash work out their bodies and cocks before suiting up for the office. And if Esteban Del Todo is going to be late to the office every morning, then his boss Paddy O'Brian is going to punish him hard! There's nothing more seductive than a powerful businessman using a 'Power Play' to get what he wants!