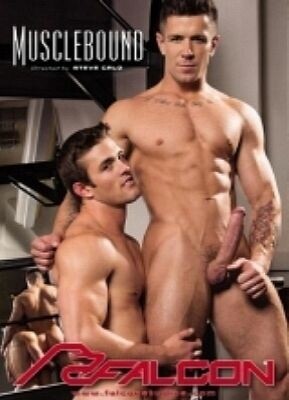 We've all fantasized about jumping the bones of that stud at the gym, licking him from head to toe. If we can't do that, watching Trenton Ducati and Ryan Rose is the next best thing. Ducati (a trainer in real life) instructs the chiseled Rose though a workout, the smoothie working up a sweat as he's told to go deeper on his squats and lunges.

It doesn't take long for these two to strip down (save for their sneakers, a great look on them) and all over each other (viewers might be blinded by all the abs). While he sucks, Ducati reaches up to touch his client's chest Rose grabbing hold of his hand in one of many hot moments. The two fuck each other, the verbal Ducati ("Fuck you're so hot! I love you inside me!") licking his own cum off his fingers before getting a facial.

A stretch session turns dirty as Angel Rock uses his furry pecs to seduce hairy Donnie Dean, whose smile lights up the scene. He gets it from behind, sliding all the way off and back on before sitting down on the top's cock. Tall, smooth and shaved-headed Angelo gets behind JR Bronson during a workout to admire his ass—which he is soon deep inside. The finale has Jimmy Durano fucking Mike Anders, a facial ending the action.
Synopsis:
This gym is filled with Falcon Musclebound studs, and the hand-picked cast of eight ripped-and-stripped jocks pump iron — and each other - in this beefy cum fest. So much jism flows in this gym, they need to put a "Floor May Be Wet" sign on the wall. Award-winning director Steve Cruz assembled an all-star cast with sculpted physiques and amazing assets to work each other out. The perfection of the individual parts of these guys' bodies adds up to a sublime "hole," and if that hole's not getting fucked, at least it's getting rimmed. Hustle meets muscle when strong, handsome duo Trenton Ducati and Ryan Rose play "drain the trainer." Angel Rock and Donnie Dean burn calories in an aerobic, thick-dicked fuck that has Donnie gasping for breath from the exercise his ass receives. Angelo's alabaster skin is so translucent you can almost see every fiber of his musculature as he drills equally smooth JR Bronson into sexual ecstasy with his massive cock. Mike Anders' shorts slip down and expose enough crack to grab Jimmy Durano's attention. Jimmy's gargantuan cock and balls engage Mike as they find new muscles to pump. Working out here takes on a different meaning as these studs take a break from bodybuilding to satisfy each other in Musclebound.