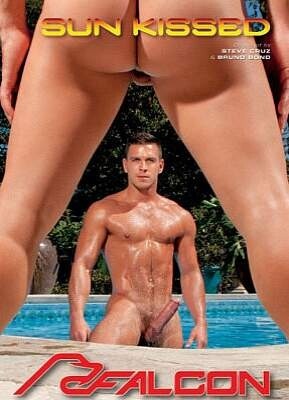 The powers that be at Falcon ain't no dummies they know they've struck gold with Paddy O'Brian (literally...look at that gorgeous tan skin!),who appears in three out of four scenes here. The highlight starts with him rubbing his incredible bod and cock as he sits on the edge of the pool, showing off his big, thick shaft and beautiful balls. He's soon greeted by the hands and mouth of Trenton Ducati, who dives into the water and resurfaces between O'Brian's legs. This is a dream pairing, and it doesn't disappoint the two share spirited kisses and have their hands all over each other as Ducati slurps up the stud (watch as they clasp hands on O'Brian's stomach). O'Brian then gets Ducati's muscle pecs shaking as he fucks him hard and deep, the top shouting "Suck that cock!" (in his hot accent) after he squirts, a wad dangling from Ducati's chin.

O'Brian also works his magic on bottoms Ray Diaz in the finale and Eden Sol in the opener which has a pause-and-enjoy shot of O'Brian waking out of the pool, his body towering over the lounging Sol's body. We're then treated to a great close-up as O'Brian releases his meat and strokes it. Rounding out the action is a flip fuck between hung smoothies Shane Frost and Tate Ryder who takes a huge wad all over his face.
Synopsis:
These guys like the outdoors.