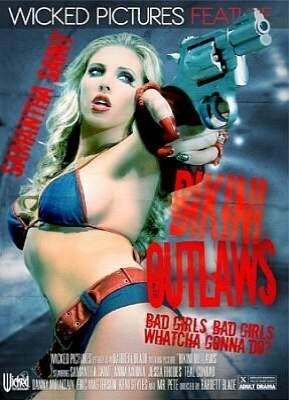 In this Wicked Pictures/Barrett Blade "vision," a quartet of female bank robbers—yes, they're all dressed in bikinis—are partying together in a cheap hotel room after a big heist… with each chick having a flashback revealing her somewhat sordid past—and some hot-fucking sex!

You get five hump scenes with the best undoubtedly featuring Jessa Rhodes and box-cover girl Samantha Saint. Even the lesbian threesome between Anna Morna, Jessa Rhodes, and Saint is somewhat of a scorcher, with Morna really munching on Rhodes' luscious butt. And speaking of Rhodes… She must have one of the best rumps in town. A cute little thing from Oregon, she fills any room with absolute eroticism, particularly in her scene as a, willingly exploited, stripper/hooker with vintage stud Eric Masterson. Limey Keni Styles, excellent here as a creepy villain, gets to bang Samantha Saint in a junkyard. Romantic.

"Bikini Outlaws" is, hands down, one of director Blade's best Wicked titles. Yes, he does make his four "Outlaws" hard-spirited and rather unlikable, making you scratch your head and justifiably wonder, 'These girls look like such great fucks… but, man, they're such terrible human beings.' Blade, however, deftly delivers a highly satisfying, even somewhat artistic (but no less cool) ending. Check it out.
Synopsis:
Five young and reckless beauties from different walks of life take on the system and get more than they bargained for. Fast girls go "all in" for the quick buck by knocking over an easy target - but find out things aren't always what they seem. Smoking hot girls, car crashes and mind-blowing sex collide in this visual masterpiece that will leave you breathless!