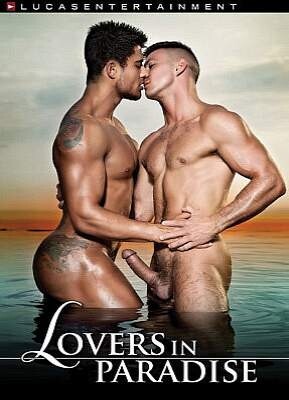 On location in Costa Rica, Lucas Entertainment took advantage of the scenery by getting a few shoots in. In contrast to the dark "Original Sinners," this entry is more romantic and the settings are simply stunning, these men cavorting amid beaches and waterfalls that will take your breath away.

The first scene is the best Paddy O'Brian and Diego Lauzen kiss by the rocks, settling in at the bottom of a waterfall. O'Brian's massive dick bursts from his bathing suit, Lauzen lapping it up before eating the hunk's hairy ass reaching up to feed Paddy a finger, the two clasping hands over his pec (it's as steamy as it sounds). Lauzen sits down on the top, the two wrapping their arms around each other before O'Brian finally gives him a facial the two kissing as a strand of cum connects their chins (hot!) before smooching some more under the water.

Smooth and tattooed Rod Daily and Jesse Santana flip fuck by a stream, while Tiziano Fuentes gets his holes filled by the huge uncut cock of muscle man Wagner Vittoria. Adam Killian and Jake Genesis are an all-star pairing that live up to the billing, while a bedroom flip fuck has rock-hard D.O. and super-big Vito Gallo pleasing each other.
Synopsis:
Leave behind your everyday troubles and escape with the "Lovers in Paradise" where you'll see the most exotic and passionate sex ever witnessed. In the beginning Vito Gallo and D.O. make love to each other in a candlelit bedroom. Tiziano Fuentes lets go of his inhibitions and gives himself to Wagner Vittoria. Paddy O'Brian and Diego Lauzen have passionate sex under a waterfall. Adam Killian teaches Jake Genesis a lesson in tough love. And Rod Daily whisks Jesse Santana away into a tropical forest for some romance. Once you meet with the "Lovers in Paradise" you'll never want to return!