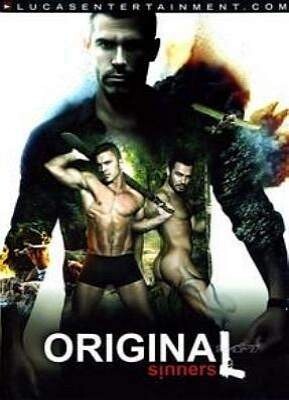 We're not sure if Marc MacNamara was inspired by the likes of Agatha Christie's "Ten Little Indians" or the underrated 1985 movie "Clue," but this entertaining thriller plays like an homage to those mystery staples. Seven men are invited to a remote home in a Costa Rican jungle, where diabolical host Jessy Ares offers a warning: "This is consequence." The men have secrets they want to protect, each betraying one of the seven deadly sins. Betrayal and multiple murders are in store as more secrets surface. It's a great story complete with wonderful settings and set pieces, and even a pretty nifty special effect with fire.

The sex is also explosive, but what else would you expect from the likes of Ares and D.O., who plays his housekeeper and gets the ball rolling with an outdoor threesome? Jake Genesis and Jesse Santana have a scorching encounter on the beach; while Adam Killian sucks Ares before joining Wagner Vittorio in double-penetrating Diego Lauzen. Vittorio's smile, bod and cock are unforgettable. But the biggest revelation is Paddy O'Brian who inhabits wrath with vigor, his anger and intensity bursting off the screen with Ares in a great finale.
Synopsis:
The twisted and sinful story follows Paddy O"Brian, Adam Killian, Diego Lauzen, Wagner Vittoria, Jake Genesis, Jesse Santana and Tiziano Fuentes who are all being blackmailed by maniacal puppet masters D.O. and Jessy Ares. The men are go into a deeply isolated jungle where no one is safe. Once the seven deadly sinners have made it into the heart of the blazing rainforest, the secrets and mysteries unfold as the men race to figure out what lies behind each closed door and how to make it out alive!
close
E-mail this to a friend
Original Sinners
Email sent. If you wish to send to another person, click here.