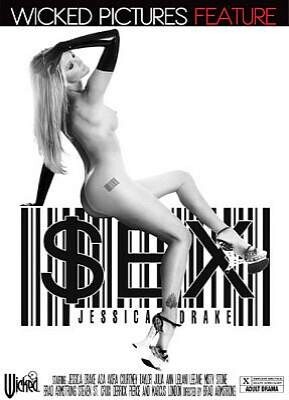 In the "not-so-distant future," prostitution in America is legalized. Hoor-ray! And, "after the economic meltdown of 2017" (well, it's good to know that the meltdown we're still in will eventually end!), instead of paper money and credit cards, a governmental monetary system is in place whereby purchases are completed via a bar code tattooed on a person's wrist. Pretty weird, huh? And in this bizarre new world order, Annika (played by Jessica Drake) is a top-of-the-line call girl, who deeply loves her work… and similarly gets into some deep shit in the course of this curious Wicked sci-fi opus.

By they way, plenty of sizzling anal action in "Sex." Jessica takes it up the crapper from kinky client Derrick Pierce. Asa (of course!) loves getting it way down deep inside her refuse chute… care of the—very lucky!—Steven St. Croix. Julia Ann and Jessica double team director Brad Armstrong (is this what you call an extended cameo?), with bad Brad getting a good shot at each lady's "bum" as they refer to "anus" in London Town. And, lastly, Steven St. Croix returns to hammer Drake's hamlet. Enough ass-fucking for ya?

There's also an engaging bit of conflict and danger in the story. That is, Asa's character Jen steals a shitload of money from Annika's long-time client Collin (St. Croix) with murderous results. In turn, Annika has to clean up the mess, with the very gangster-ish Collin furiously blaming the entire rip-off on her and demanding remuneration… or else.

Except for a rather hard-to-believe ending (luckily for you, this is a spoiler-free smut review) and Armstrong's strange aversion to doggie-style boffing in at least three entire scenes (the opener and the episodes with superstar Asa and Courtney Taylor), "Sex" is worth checking out for a number of reasons— aside, that is, from generously providing viewers with oodles of anal sex.

Indeed, Sex stands out in that it's ¬not your typical, run-of-the-mill fuck flick… Drake still looks terrific after all these years in porn—a testament to her properly pacing herself in a ridiculously fast-paced business… the story's whole bar-code-on-body aspect adds a welcome sci-fi flavor to the show… and both Drake and St. Croix deliver totally credible performances. Good enough for ya?
Synopsis:
In the 'not so distant' future the world is a very different place. Sex is now a very valuable commodity, bought and sold like any other product and all monetary transactions are done via a barcode tattoed on one's wrist. In this "new world" Anika Tate (jessica drake), is one of the most successful purveyors of sexual commerce. However, after a transaction goes awry, her perfect little world starts to crumble. Director Brad Armstrong, jessica drake, and an incredible cast of today's hottest performers bring the chilling tale to life. A fresh look at the world's oldest profession!