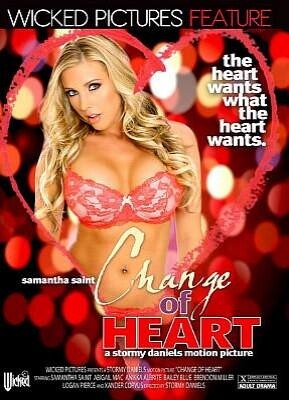 Stormy Daniels brings together her skills as writer, director and actor (non-sex) in this well-made and entertaining couples movie. Samantha Saint plays a social worker who's looking forward to marriage with boyfriend Logan Pierce, but she keeps having nightmares about being attacked when working in a bad part of town. She also keeps thinking about the man (Brendon Miller) who chased off her would-be rapist and then vanished.

One day she happens to see him in a coffee shop and they strike up an acquaintance. It turns out that he's trying to recover from a recent trauma of his own. As the title indicates, Samantha does have a change of heart about her marriage, and the way the story gets to the point is quite believable.

Saint must be tired of hearing about her resemblance to Scarlett Johansson—but this is by no means a bad thing. She's not only beautiful but has real star presence, acts capably, and performs well in sex scenes with Pierce and Miller. For the rest, Albrite and Abigail Mac get into girl-girl at the bachelor party, and Xander Corvus, as Logan's best friend, does anal with Bailey Blue. Production values are uniformly high, per the Wicked standard.
Synopsis:
Ashley (Samantha Saint) is running through a sketchy area of downtown, clearly being chased. Suddenly, from nowhere, a mystery man - Jason - tackles her assailant and saves her from certain disaster. Plagued by nightmares of the attack and unable to concentrate on her upcoming wedding, Ashley has a chance meeting with Jason. While the sexual tension between them is clear - Ashley is uncertain about her future. An intense and erotic film that has Ashley asking, 'do I follow my heart…or my mind?