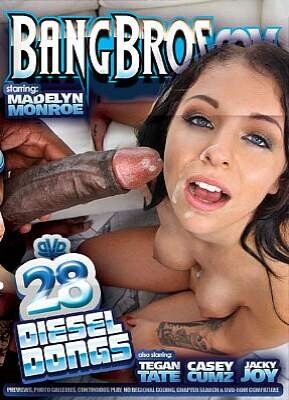 Strictly for fans who love to see young white pussy get demolished by huge black dick. Three of the four girls here are porn newbies, and they all seem to have a good time with their partners, Rico Strong and the ever-gentlemanly Sean Michaels. There's a whole lot of interview chat before the sex starts, but once it does, it delivers.

Madelyn Monroe, a blue-eyed brunette from Seattle, has the Space Needle tattooed on one forearm. Rico enters her pussy as gently as possible, and after a few minutes it makes her "so fucking wet." Green-eyed Casey Cumz, from Mississippi, says she loves anal because "there's five g-spots in your ass, only three in your pussy." (The things you learn from watching porn!) She sits on Sean's foot-long sausage and takes it enthusiastically.

Tiny Tegan Tate, from Texas, also draws Michaels. Tiny girl, big man, even bigger dick, but she takes quite a bit of it. Jacky Joy, the only blonde, is the most experienced. She's had her share of big dicks, it seems, and has no problem at all with Sean's supercock.
Synopsis:
Little white chicks that love big black dick!