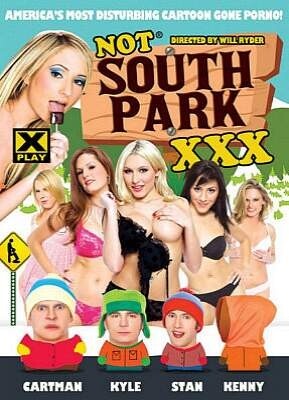 X Play gives us a porn parody of the long-running, adult animated sitcom from Comedy Central. It's not animated, though. That's right: The fucking is real. But is it real hot?

Your favorite sick-fucks from South Park—Stan Marsh (played by Tommy Pistol), Eric Cartman (Anthony Rosano), Kyle Broflovski (Dane Cross), and even Kenny McCormick (K. Wang)—are all here (yay!), and each lad gets a shot at a popshot, with some, if not absolutely scorching, fairly solid results. One of the better balling sequences is right at the start of the show: the arousing coupling of Liv Aguilera and Tommy Pistol. Liv generates tons of passion and gives one mean, saliva-drenched blowjob. She doesn't do anal. But Aguilera is so into her scene, it's quite satiating. For the time being, that is—until she does take it up the ass. And we can't wait!

Of note are two other horny scenes: one from twangy chickadee Aria Austin, the other care of big-boobed blonde Katie Summers. Aria plays a gal who kicks Cartman in the balls (for being a peeping tom while she's taking a shower in the community college girl's locker room), sending him to the hospital with the possibility of his losing a testicle. Great balls o' fire! In turn, Aria shows up guilt-ridden at his bedridden feet. "I feel so bad for what I did," she tells him, "(that) I'm gonna give you something extra special, and I'm gonna let you take my shit-hole." "Whaaaaaaaat?" Cartman exclaims in his rather annoying voice. Aria exudes light years of energy, proving that, yes, she's definitely in the right business.

Katie Summers' own scene rocks simply because she comes across as such a slut. I just love the way she smirks ever so filthily at the camera. Her big fake tits are awesome, too; check out how those nipples literally stand up. And the girl can really ride cock. In fact, she straddles Dane Cross (here portraying South Park's Kyle the Jew) so magnificently, I'm surprised he doesn't die and go straight to heaven. Oh, and speaking of death… Yes, Kenny does die in this parody. But have no fear: We're sure he'll return. Always does.

All in all, a good job from director Ryder.
Synopsis:
Possibly the dirtiest most offensive fuck flick ever, award-winning director Will Ryder creates a XXX hardcore porn parody of Comedy Central's South Park, Kyle falls in love with a beautiful college co-ed (Katie Summers), but Cartman discovers she's a porn star. Witness juicy pink pussy stuffed by huge cocks and filthy ass fucking amidst ethnic jokes and dim sexual wit. Hilarious and sexy as fuck!