Jessica Drake's Guide to Wicked Sex: G-Spot and Female Ejaculation
Wicked Pictures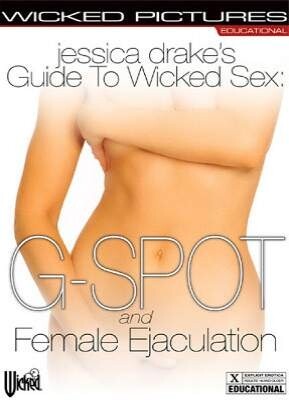 Jessica Drake is the knowledgeable, experienced and articulate guide to the mysteries of female ejaculation. She explains exactly where the G-spot is inside the vagina and emphasizes that female ejaculate can be clear or cloudy. It's not urine, but similar to prostate fluid in men. "Some women drip, trickle, gush or ever spray. You won't know until you try. Remember, every woman is different."

Annie Cruz and Jessie Andrews tell of their own ejaculation adventures. Jessie Andrews had never masturbated before getting into porn and had her first squirting experience on a set. Toni Ribas tells about the first time he saw a girl ejaculate and says he's become "pretty good" at making women squirt.

The two sex scenes—Annie with Toni, Jessie with Marcus London—can be watched with or without Jessica's commentary, but with is recommended. She makes insightful comments about technique and reactions that inexperienced viewers may not see, pointing out, for example, that the curve in London's cock comes in handy when hitting the G-spot. Annie squirts several times under Ribas' skillful upward thrusting, "massaging the G-spot." Jessie has one huge gusher, aided by a Magic Wand-style vibrator given to her by Jessica.
Synopsis:
Curious about your G-Spot? Are you a "squirter"? What is female ejaculation, and how can you just give in and surrender yourself to one of the strongest orgasmic experiences ever; with or without a partner? Explore these questions and more in jessica drake's Guide to Wicked Sex: G Spot and Female Ejaculation. In this edition of the multi-award winning Instructional series from Wicked Picture's very own resident sex educator, you will learn what the G-Spot is, where it's at, and how best to use it for your pleasure.