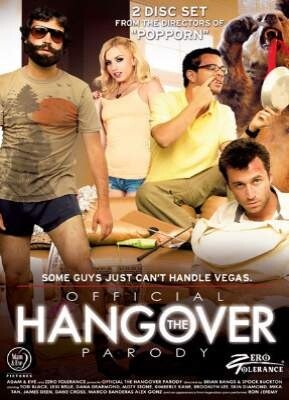 The mainstream hit "The Hangover" was bound to be parodied; the story of a bachelor party trip to Vegas basically demands a porn treatment. Fortunately, the honor of making this parody fell to Brian Bangs and Spock Buckton, who did an excellent job. This is the rare porn parody that doesn't just recreate the original but builds upon in it in the process of translating the original story into the adult format.

For instance, Dane Cross plays Stu, the mild-mannered and pussy-whipped character who is engaged to a major bitch, played to great effect by Kimberly Kane. While Kimberly lectures Dane about staying out of trouble on his trip to Vegas, she simultaneously begins blowing the pool boy with Dane still in the room. Funnier yet, Dane leans down to kiss Kimberly on the cheek while she's chugging cock down her throat. That's a level of humiliation that the mainstream movie could never have come close to approaching.

Overall, the script is witty and the production values are great. They put a lot of time and effort making this movie and it shows. There's even some excellent acting, including Spock Buckton's turn as Alan, the one-man wolf pack. Fortunately, the role is non-sexual. It just wouldn't be right to see Alan having sex and besides, Lexi Belle offers an unflattering critique of Spock's junk in the Behind the Scenes footage that leads one to believe we're better off not being exposed to his ashy tool.
Synopsis:
When three horned up friends lose their soon-to-be-wed buddy at his Las Vegas bachelor party, the results are truly unforgettable. As they retrace their steps to find him, the guys come across misadventure, danger and more pussy that anyone could have expected. Directors Brian Bangs and Spock Buckton deliver a no-holds barred porn parody-palooza filled with hot sex that honors the now classic 2009 comedy. Starring Tori Black, Lexi Belle, Kimberly Kane, Brooklyn Lee, Dana DeArmond, Misty Stone, Skin Diamond, Mika Tan and featuring an outrageous cameo-appearance from legendary porn performer Ron Jeremy, The Official Hangover Parody is destined to be an instant classic!