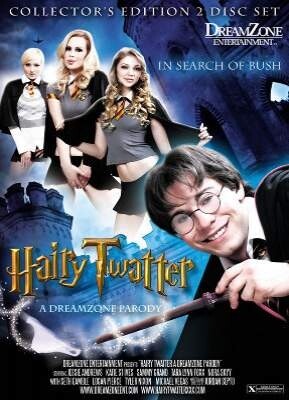 Those expecting a big-budget porn adaptation of Warner Brothers' "Harry Potter" franchise, complete with extravagant sets and sexualized re-enactments of its most popular scenes will be disappointed by DreamZone's shot-on-a-shoe-string spoof. Despite having Jordan Septo in the director's chair, feature stars Seth Gamble and Jessie Andrews as its leads and a brilliant DVD box cover, "Hairy Twatter" lacks magic.

The action is all set in a house, which serves as the film's Whore's Wart's School for Witches & Wizards. The plot revolves around Twatter (Gamble) finding a spell to make the girls at the academy grow pubes. It's a silly story, but one that could have worked if the parody's script had drawn more inspiration from the original movies/books, perhaps providing a nod to one or two particular scenes. As it stands, there's not much aside from Twatter's school robes and glasses for fans of J.K. Rowling's boy-wizard to get excited about.

"Harry Twatter" does provide some thrills in the form of Katie St. Ives, who looks super sexy as dark-haired witch Hella Trix and schoolgirl Tara Lynn Fox, who continues to prove she's one of the industry's most underrated starlets. Jessie Andrews as Hormone Granger isn't given much to do acting wise, but delivers a solid and stroke-worthy scene.
Synopsis:
These are indeed some magical times at the Whore's Wart's School for Witches and Wizards. But the one thing disturbing the male population is that none of the females have any hair on their twats. Harry, being the most powerful wizard at the school, experiments with dark magic in hopes of big bushes. The results are quite hair raising.
close
E-mail this to a friend
Hairy Twatter The Parody
Email sent. If you wish to send to another person, click here.