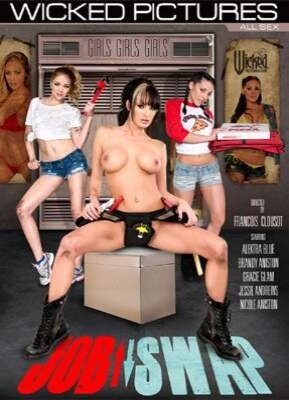 A typically well-shot, well-performed Wicked vignette movie. The setups are brief and to the point, the sex scenes are never less than medium hot and often a lot more so. Veteran cameraman Francois Clousot gets the formula just right with these mini-stories about girls who substitute for guys on the job and the confusion, not to mention sex, that results.

Xander Corvus is surprised to see a female trainer on duty his gym. Filling in for a friend, Alektra Blue motivates him as no man could, just by showing her tits. They have typically energetic sex. Gracie Glam stepping in for a pizza delivery guy is willing to trade her sausage pie for sex with cash-poor Barrett Blade. Barrett's own sausage makes her feel just fine. Jessie Andrews, taking over plumbing chores for Brandon Fox, wheezes and pants her way through a very hot scene. Brandy Aniston fills in as a pool cleaner and makes the day for real estate mogul Rocco Reed.

In "The Gardeneress," with not a word of dialogue, Richie Calhoun is surprised to see blonde Nicole Aniston watering his plants — and it's sex at first sight. Nicole's beauty makes this scene the best of the bunch.
Synopsis:
Welcome to a world where up is down and black is white. In this magical place, pizza is delivered by hot girls hoping for a tip in the form of sexual favors. A place where the pool girl insists on getting naked and the gardener can't wait to show off her trimmed bush…Join this outstanding cast of sexy sweethearts as they swap jobs to show you good time.