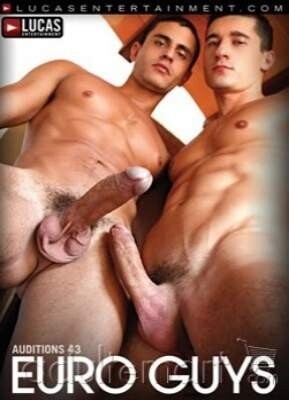 You won't find a cuter manon the planet than Jay Roberts, whose genuine smile, sense of humor and killer bod are a lethal combination. Just watching him interact with Rafael Carreras in the opening interview is worth the watch his expressions, jokes, overall positive attitude and affectionate nature... you just want to take the man home, nuzzle up next to him and suck face for hours (I saw him first!). Carreras loves talking about how hard Roberts gets just from just a simple finger fuck, and soon proves it.

And after some chemistry-packed sucking and fucking, the hung top dumps his load on Roberts' face —then licks it all up (hot damn!). It's the highlight of this five-scene effort, which includes interviews by Michael Lucas and Jonathan Aggasi. We're also fond of the silky smooth skin and huge cock of JP Dubois, whose gorgeous meat stays stiff during his flip-fuck scene with Rowan Bailey. Another Brit big and hairy beast of a man Bruno Knight takes charge of French twink Leo Helio, and it's a joy to watch Knight use his big bod and hands to seduce the bottom. The huge and juicy cock of Lucio Saints finds a home in the holes of Kriss Aston, while the verbal onslaught of dominant Jean Franko is enough to get Tavor Wolf (and us) begging for more.
Synopsis:
Leave it to "Euro Guys" to deliver our most aggressive "Auditions" installment yet! In his first scene ever, big-dicked Rowen Bailey flips with British stud JP Dubois. Lucio Saints brings "power-top" to a new level with his relentless pummeling of French bottom kriss Aston. Spanish stud Jean Franko takes control of Tavor Wolf's perfect ass with no mercy. Hungry sex-pros Jay Roberts and Rafael Carreras have the perfect chemistry as they fuck hard. Bruno Knight forcefully pounds his fuck toy Leo Helio and then gives him a mouthful of warm, thick cum. Sexual aggression is served up hard and hot from our "Euro Guys"!