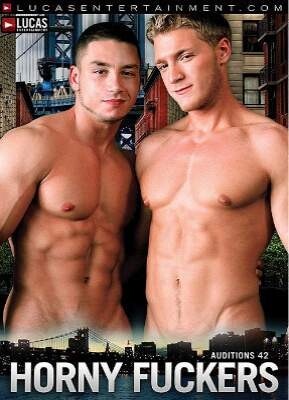 Where the hell have you been, CJ Madison?! This tall hunk of muscle, tattoos and overall grizzled hand someness hasn't been in front of the camera nearly enough for my tastes (what, he has a huge cock too? Hadn't noticed...).

It's a sight for sex-starved eyes to see him on display again, here paired with smooth and cute Devin Adams who stays stiff as he gets plowed, his dick bouncing as his ass ripples. On his back, Adams gets his cock stroked as Madison moans "Good boy!" before offering his own ass ending with a double facial on Madison's 5 o'clock stubble.

Two energetic performers also stand out: muscle men Gavin Waters and Marc Dylan charm the clothes off each other (and us) in an engaging interview section before Dylan bends over (the two have a genuine, natural charisma that is rare). Newbie Barrington Brooks shows off his monster ("It's a fucking telephone pole!" marvels bottom Logan Stevens as he rides), while tan and toned Phillip Aubrey flip fucks with beefy Dirk Caber. And be sure to check out the hard time Michael Lucas gives to fellow Russian Valentin Petrov in the interview section. You might be surprised the model stays on set, but thank God he did: watching his massive cock in action with Kyle Quinn (so excited he squirts twice!) is delicious.
Synopsis:
Five brand new intense fuck sessions... In "Auditions 42: Horny Fuckers," Lucas Entertainment opens up the doors of its Manhattan studio to a sizzling parade of eight sex-hungry guys ready to show off their stuff for the camera! Scene 01: CJ Madison and Devin Adams; Scene 02: Dirk Caber and Phillip Aubrey; Scene 03: Kyle Quinn and Valentin Petrov; Scene 04: Gavin Waters and Marc Dylan; and Scene 05: Barrington Brooks and Logan Stevens.