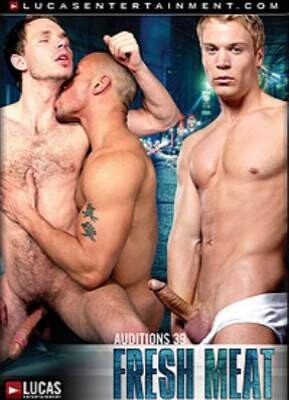 Try not to get lost in the cleavage of Joey Milano, whose toned, tan and smooth pecs peek through his shirt in the opening interview of Michael Lucas' latest pro-am entry. The handsome trainer clearly knows what he's doing at the gym, seducing us before he even takes off his clothes. He's paired with the engaging Parker London, a muscle cutie who has the most entertaining (and funniest) interview with the sometimes trouble-making Lucas ("I'm a whore," says London, asked to recall the name of a fellow actor who accidentally shit on him. "I can't remember all these people!") After some sucking, the two trade fucks — including a great sit-down shot where Milano's big boner bounces as he rides.

Hairy hunk Alessio Romero bangs the shit out of tattooed smoothie Roy Jones, who face-plants the sheets as he gets rammed — followed by a facial as his reward. Dirk Caber, best known for his work with Titan, gets paired with tan and hairy Stone Fury — the two grunting as they grapple before flip fucking. Lucas then devours blond German bottom Carsten Andersson (the poor guy never stood a chance!) before smooth muscle man Lawson Kane (whose Q&A, where he discusses coming out, is also interesting) shoves his very big, very thick cock into the holes of hairy and hung Zach Alexander.
Synopsis:
In Auditions 39 Fresh Meat we break in newcomers with seasoned sex-pros and watch as they fuck the cum out of each other! First-timer Lawson Kane plows hairy sex pup Zach Alexander! Newbies Stone Fury and Dirk Caber wrestle and force fuck! Alessio Romero and Roy Jones spit, suck and slam! Muscle studs Parker London and Joey Milano take turns pounding each other! And Michael Lucas hammers eager bottom Carsten Andersson.