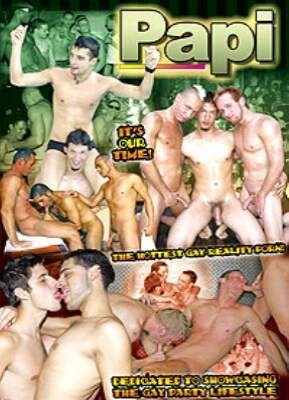 It's our time! The hottest gay reality porn! Alessandro: Cock and Ballin' We find ourselves at a bath house for some great Papi action. We found all sorts of great things in the showers. Random blowjobs and voyeuristic fantasies fulfilled here. Marco and Adam showed off their asses and deep throat skills. The real action came in a private booth where there was an amazing 69. Alessandro made himself to one of the rooms and got handles by one of those great tops. Great anal action at the bath house. Baileey: Papi Rock - This was the Papi fiesta of the month. We had a club to ourselves, and Baileey started hunting for prey. Twenty minutes later I find him making out with this hot papi. Not too long after they started getting naked and that's when the real party started. Dicks everywhere, strippers and a lot of hot Papi's. Marco: Deep Sensation - I got two fucking hot beefcakes going all out. You can really tell when there's chemistry between two people and these two hit it off before we even got to the room. They couldn't keep their hands off each other. Lucky for you and me, Marco was like a fucking wild stallion tonight. Javier: Pool Party - This was definitely a party I'm glad I did not miss. I have always dreamt of this kind of party. A super orgy with all of the guests. Pool…Drinks…And all of my Papi's there. What more can I ask for? I can die happy now. On second thought maybe I need to experience some more of these parties first.
close
E-mail this to a friend
Papi
Email sent. If you wish to send to another person, click here.