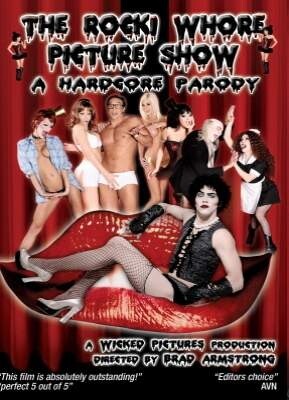 Wicked Pictures pays homage to a Hollywood icon with this fearless new parody from director Brad Armstrong, and in the process the 2011 Feature Studio of the Year has set a new standard for porn musicals.

Impossibly sexy and shamelessly campy, this X-rated tribute is lifted by spot-on casting, a terrific screenplay and nuanced art direction. And the five original musical numbers — all takeoffs of songs from the 1975 cult classic — give the movie personality to spare.

In Armstrong's version, Brad (Rocco Reed) and Janet (Jessica Drake) spend the first night of their honeymoon being initiated into the world of porn, thanks to the perverted exploits of the transvestite director Frank N. Beans, brilliantly played by Mac Turner.

Drake and Reed give sensational performances as the unsuspecting couple that loses their innocence during a night of debauchery at a mansion filled with horny Transylvanians. Reed gets into double trouble with Kaylani Lei and Annie Cruz in one of Rocki Whore's hottest scenes, while Drake gets down with Turner and the statuesque Puma Swede (Rocki) in separate encounters. Drake even sings to Rocki music-video style before they engage in some strap-on fun.

Indeed, the entire "Rocki" cast came to play in this spoof, including Randy Spears in a superb turn as Stiff Staff, Alektra Blue as the delightfully dirty Euphoria and the talented Nicki Hunter as Vagina. Hunter also supplied lead vocals on some of the songs.

Meanwhile, James Bartholet skillfully narrates the story as the Pornologist in a non-sex role that seems tailor-made for the veteran actor.

But what this parody will be remembered for the most is the Rocky Horror-inspired musical numbers. Laced with silly lyrics by Rod Hopkins with music written by Nita Strauss, all five songs are performed with a Wicked sense of humor. Among them are "Fuck a Fuck a," "Oversexed Pornstar" and the climactic tune "Orgy" that precedes an elaborate group balling with what appears to be close to 20 different performers.

Armstrong & Co. have given a cinematic jewel the treatment it deserves, creating an instant porn classic that should give fans of the original reason to celebrate.

Retail mix: A crazy, sexy take on cinematic gold.
Synopsis:
Rocky Fans prepare… for the 2nd best movie watching experience of your life. Wicked Pictures and Award winning director Brad Armstrong would like to make… a TOAST! May we introduce ROCKI, a porn parody like no other that pays homage to the hilariously naughty cult classic. Like the original, Brad & Janet come across a spooky castle, but this time they find themselves right in the middle of a porn shoot with wickedly funny results. A magnanimous ensemble cast has cum together to recreate the timeless magic that has enchanted fans for more than 3 decades. The names have been changed to protect the "not so innocent" but have no fear, the gang's all here.. Frank-N-Beans is the cross dressing director, Stiff-Staff is the hunched-backed camera man, Vagina and Euphoria are two fabulous porn starlets… and of course, there's the very cosmetically enhanced, boob-alicious, blonde beauty Rocki. Singing, dancing, music and mayhem- they're all here, along with some of the hottest sex this side of Denton. Give yourself over to absolute pleasure, as this amazing cast of A-list talent and naughty newbie's embodies their beloved counterparts, and bring your favorite characters to life in this X-Rated adventure. Don't dream it… SEE IT! We guarantee complete satis… faction!