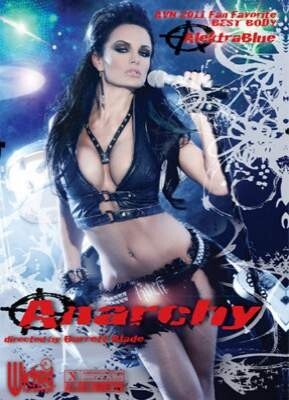 Wicked Girl Alektra Blue bring some major-league tits, ass and total attitude to her lead role in "Anarchy" in one of the most memorable performances of her XXX career. In this unapologetic movie from director Barrett Blade, Blue plays a vodka-swigging, chain-smoking, potty-mouthed prima donna who fucks as hard as she rocks.

In fact, Miss Blue has spiraled so far out of control that she finds herself behind bars at the beginning of the movie, wondering how she got there. We watch as she reflects on what landed her in the slammer as Blade reveals his story in a series of vignette-style flashbacks.

The curvaceous Blue definitely looks the part whether it's a microphone or a cock in her hand, rising to the occasion with a pair of stage shows and some intense sex. Her opening blow-bang with three fan boys ends with her mascara running down her face and a shit-load of nut dripping off her chest.

Then after hearing the news that her album went platinum, Blue invites two of her band members (Anthony Rosano and Dale DaBone) to give her a professional deep-dicking backstage. They kindly oblige, taking turns on her like it's their privilege.

Blue makes the rock-star turn complete with a profanity-laced tirade in which she wrecks her hotel room while Victoria White watches in horror, and then ravishes the security guard (Derrick Pierce) who comes to see what the fuss is about.

In the movie's kinkiest scene, rising star Lizz Tayler comes off eminently likable as a hot reporter sent to interview Blue. Tayler soon finds herself taking orders from the obnoxious singer — such as fuck the cameraman (Sascha) and the producer (Danny Wylde) in what becomes a sizzling three-way that unfolds while Blue fingers herself.

Shot with stylized slow-motion effects and black-and-white edits, the movie maintains the look and feel of the gritty, hard partying lifestyle that Blue's character has grown accustomed to. And the sex hits harder than a lot of Wicked fare thanks to Blue's go-for-it demeanor and excellent energy from the supporting cast.

Retail mix: A can't-miss for Alektra Blue fans.
Synopsis:
Alektra, the out of control, sex crazed rocker. If only the walls could talk…fortunately for us, the camera's are there to capture every naughty encounter…from sucking off her male fans, screwing her entire band or convincing a star struck security guard to forget about the trashed hotel room with her hot licks, Alektra satisfies everyone! Get ready for a little anarchy, Alektra style!